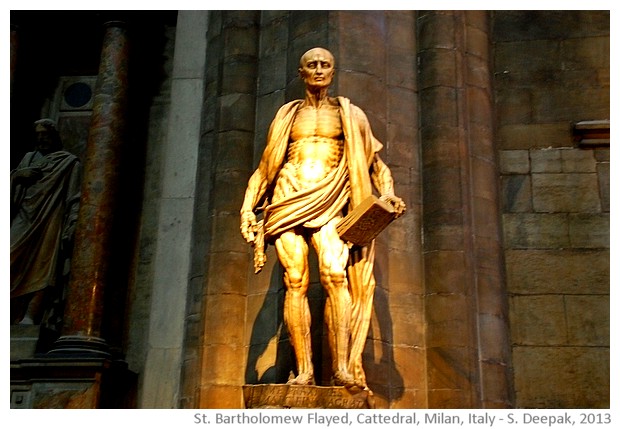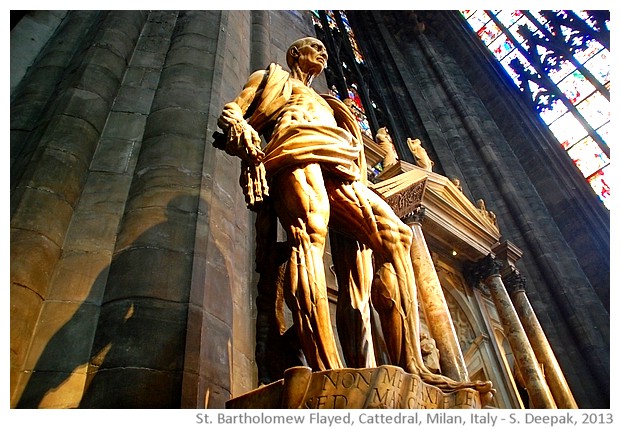 Milan, Italy: In anger sometimes people say "I will flay you alive". If someone could really flay a human being, how long will be the flayed skin? In old times, there were many examples of flaying of enemy prisoners while alive. In the cathedral of Milan, the statue of St Bartholomew has him with his skin wrapped around his shoulders. The muscles, bones and ligaments are so well made that medical students can revise anatomy lessons on the statue.
मिलानो, इटलीः कभी कभी गुस्से में कहते हैं कि "तुम्हारी चमड़ी उधेड़ दूँगा". पर अगर कोई सच में चमड़ी उधेड़ दे तो कितनी लम्बी होगी? पुराने ज़माने में हारे दुश्मन की ज़िन्दा चमड़ी उधेड़ने के कई उदाहरण मिलते हैं. मिलान के कैथेड्रल से संत बाथोलोमियो की मूर्ति में उनकी चमड़ी उनके कन्धे पर शाल की तरह लिपटी है. उनके शरीर की माँस पेशियाँ इतनी सही बनी हैं कि चिकित्सा पढ़ने वाले छात्र इस मूर्ति पर पढ़ायी कर सकते हैं.
Milano, Italia: Qualche volta in un momento di rabbia si dice, "Ti farò scorticare". Se qualcuno può realmente scorticare un essere umano, allora quanto lunga sarà la sua pelle? Nei tempi antichi, vi sono stati diversi esempi di scorticamento dei prigionieri nemici ancora vivi. Nella cattedrale di Milano, la statua di san Batolomeo, lo presenta con la sua pelle avvolta intorno alle sue spalle. I muscoli, i ligamenti e le ossa sono fatte così bene che gli studenti di medicina possono ripassare le lezioni di anatomia sulla statua.
***