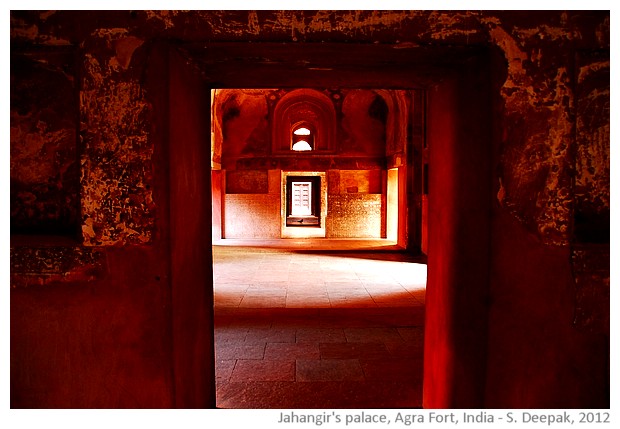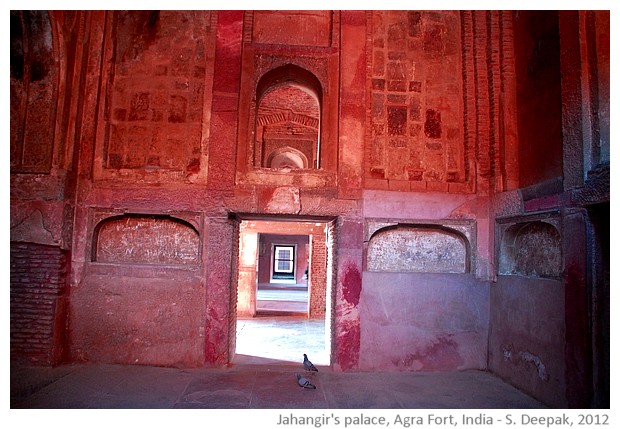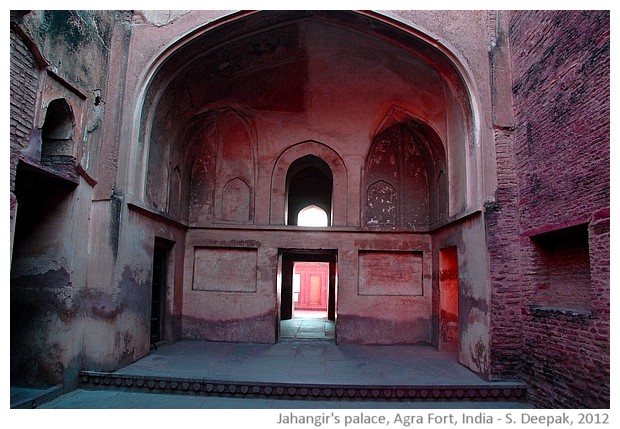 Agra, India: I had reached the red fort early in the morning and the tourist crowds had not yet arrived. The morning light coming through the doors looked very nice. In Mughal emperor Jahangir's palace, where some shooting of Jodha Akbar was also done, I experimented with camera settings and took different pictures. By decreasing exposure time and changing white balance settings, the pictures have very strong reds. The third image has normal exposition and you can see the difference. It is still not as beautiful as the natural morning light can be, but still I like these images a lot.
आगरा, भारतः सुबह सुबह लाल किला पहुँच गया इसलिए पर्यटकों की भीड़ शुरु नहीं हुई थी. दरवाज़ों से आती सुबह की रोशनी बहुत अच्छी लग रही थी. तो मैंने मुगल बादशाह जहाँगीर के भवन में, जहाँ जोधा अकबर फ़िल्म की शूटिंग भी हुई थी, कैमरे की एक्सपोज़र सैटिंग बदल बदल कर अलग अलग तरह से फोटो लीं. एक्सपोज़र समय कम होने से और सफ़ेद रंग का संतुलन बदलने से, तस्वीरों में लाल रंग गहरा हो गया है. तीसरी तस्वीर में एस्पोज़र सामान्य है जिससे आप तस्वीरों की भिन्नता को समझ सकते हैं. जो बात प्राकृतिक सुबह की रोशनी में है, वह तो नहीं आयी, पर फ़िर भी मुझे यह तस्वीरें बहुत अच्छी लगती हैं.
Agra, India: Avevo raggiunto il forte rosso presto alla mattina, prima dell'arrivo dei grandi gruppi dei turisti. La luce della mattina che filtrava dalle porte era bellissima. Nel palazzo del imperatore Mughal Jahangir, dove avevano girato alcune scene del film Jodha Akbar, ho sperimentato con i tempi di esposizione della mia macchina fotografica e cliccato molte foto. Diminuendo l'esposizione e cambiando il bilancio del bianco, queste immagini hanno il rosso molto forte. La terza immagine ha i tempi di esposizione normali, per cui potete capire la differenza. Non hanno la bellezza della luce naturale della mattina, comunque mi piacciono queste foto.
***