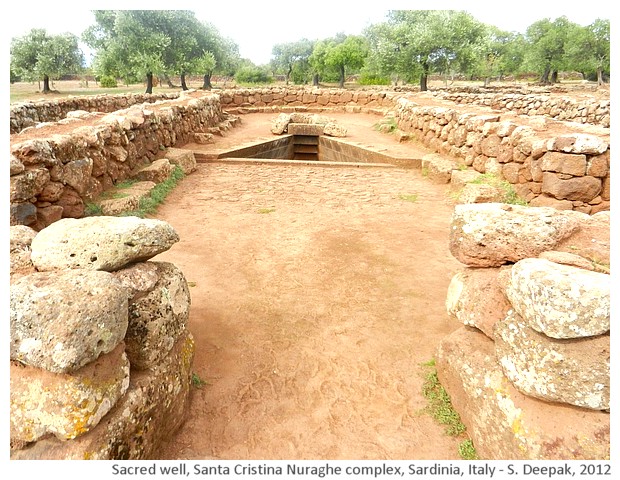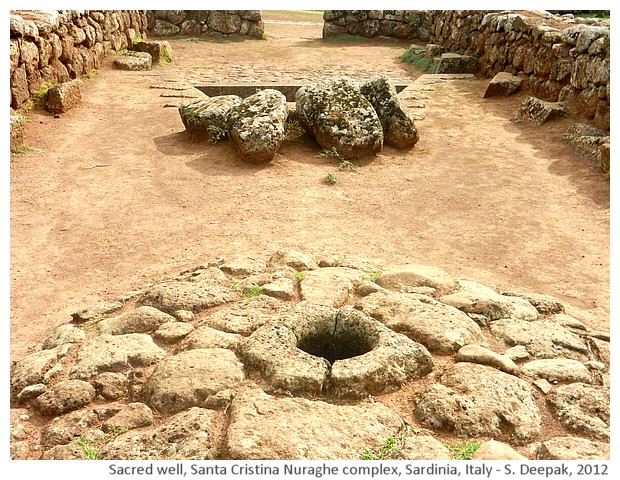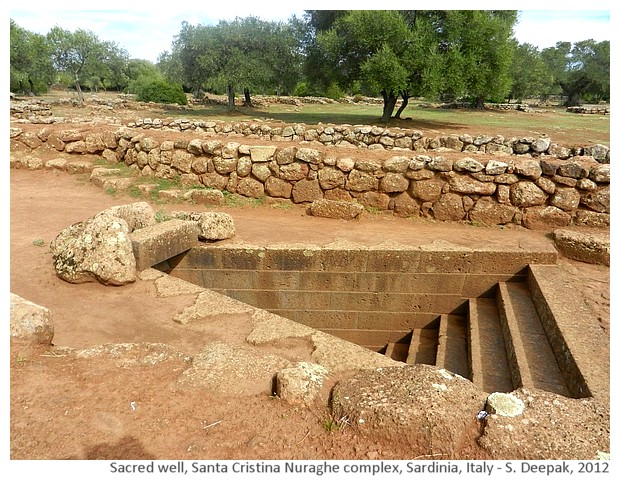 Sardinia, Italy: According to the archeologists, the well of Santa Cristina was built as part of a temple complex around 1200 BC. Not much is known about that culture, and they are called Nuragic people. They knew about stars and planets, and they had built a hole above the well, from which on spring equinox day, at noon the sunlight goes down straight to the water and illuminates it. In ancient times, on that day people came from faraway to visit this temple. In India, even today temple complexes usually have a sacred well or pond and they also have annual prayer days that bring together pilgrims.
सरदेनिया, इटलीः पुरातत्ववैज्ञानिकों के अनुसार सान्ता कातेरीना का कूँआ ईसा से करीब बारह सौ वर्ष पहले एक मन्दिर का हिस्सा था. उस संस्कृति के बारे में अधिक जानकारी नहीं, उसे नूराजिक सँस्कृति कहते हैं. उन लोगों को नक्षत्रों और ग्रहों की जानकारी थी क्योंकि उन्होंने कूँए के ठीक ऊपर उस तरह से एक छेद बनाया जिसमें बसंन्त इक्वीनोक्स यानि बसन्त के पहले दिन, दोपहर बारह बजे, सूरज उस जगह के ठीक ऊपर होता है और उसकी रोशनी नीचे कूँए में अँधेरे में पानी पर सीधी पड़ती है. इस दिन यहाँ पर बड़ा मेला लगता था. भारत में आज भी मन्दिरों के साथ कूँए या बावड़ियाँ बनायी जाती है, जहाँ इसी तरह मेले लगते हैं.
Sardegna, Italia: Secondo gli archeologi, il pozzo di Santa Cristina fu costruito come parte di un tempio, intorno al 1200 a.c. Si conosce poco di quella cultura, che è conosciuta come la cultura nuragica. Loro conoscevano l'astronomia e avevano costruito un buco sopra il pozzo, dal quale il giorno del equinozio di primavera, a mezzogiorno, la luce illuminava l'acqua sotto. Nei tempi antichi, qual giorno i pellegrini si radunavano qui. In India, anche oggi i templi hanno simili pozzi o laghetti sacri, dove i pellegrini si radunano nelle giornate speciali.
***