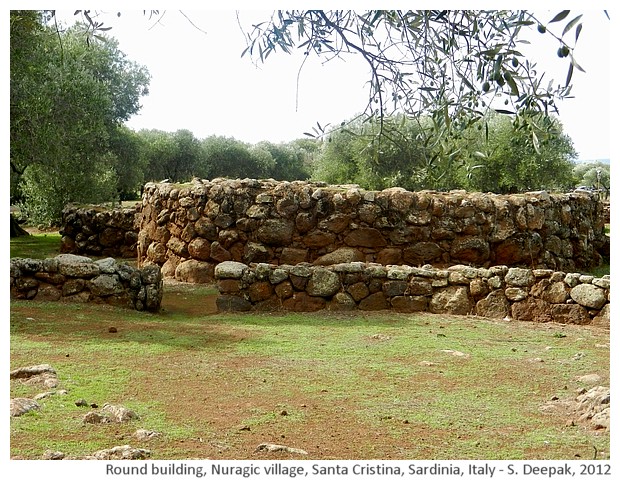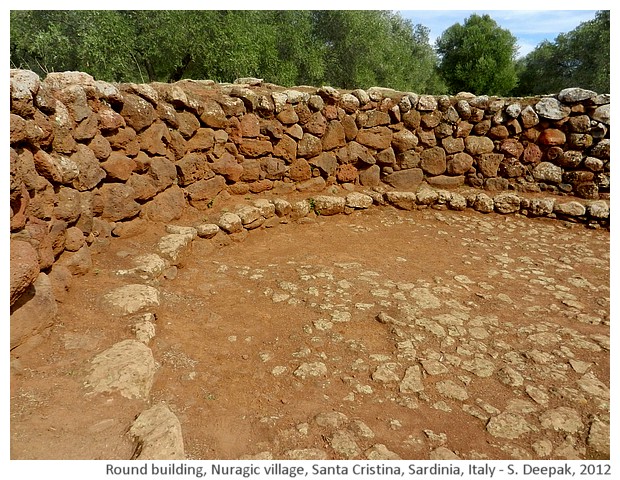 Sardinia, Italy: I had already presented
some images from the 2 thousand year old Nuraghe-making culture
of Sardinia island. Today's images are of a round stone building from a Nuragic village. Along the inner wall, it has a stone ledge for seating of people. According to the guide this roofless building was a meeting room where decision-makers of the community met. I thought that it could have been a prayer room, but in reality, how did the ancient people use it, who can tell that? May be only some archeologist or paleo-anthropologist can answer similar curiosities.
सरदेनिया, इटलीः सरदेनिया द्वीप की
दो हज़ार वर्ष प्राचीन नुरागे बनाने वाली सभ्यता
के बारे में पहले भी कुछ तस्वीरें प्रस्तुत की थीं. आज प्रस्तुत है उसी प्राचीन गाँव से एक गोल आकार का पत्थरों से बना भवन. इसमें भीतर दीवार के साथ साथ वहाँ बैठने के लिए पत्थर की मुँडेर बनी है. गाइड के अनुसार यह ऊपर से खुला भवन शायद सभा कक्ष था जहाँ समुदाय के निर्णय लेने वाले लोग बैठते थे. मुझे लगा कि यह प्रार्थना कक्ष भी हो सकता था, लेकिन सच में इसका क्या उपयोग होता था, यह कौन कह सकता है? इस तरह की जिज्ञासाओं के उत्तर तो शायद कोई पुरात्तव विज्ञान या प्राचीन सभ्यताओं के मानव व्यवहार विज्ञान के विषेशज्ञ ही दे सकते हैं!
Sardegna, Italia:Avevo già presentato
alcune immagini dall'antica cultura che costruiva nuraghe
due mila anni fa sull'isola di Sardegna. Le immagini di oggi hanno un edificio circolare costruito con le pietre. Lungo la sua parete interna, c'è una struttura di pietre per far sedere le persone. Secondo la guida questa struttura serviva per le riunioni degli anziani della comunità. Ho pensato che poteva essere anche un edificio addibito alla preghiera, ma come si può scoprire le realtà del passato? Forse solo un archeologo o un paleo-antropologo può rispondere a curiosità simili.
***