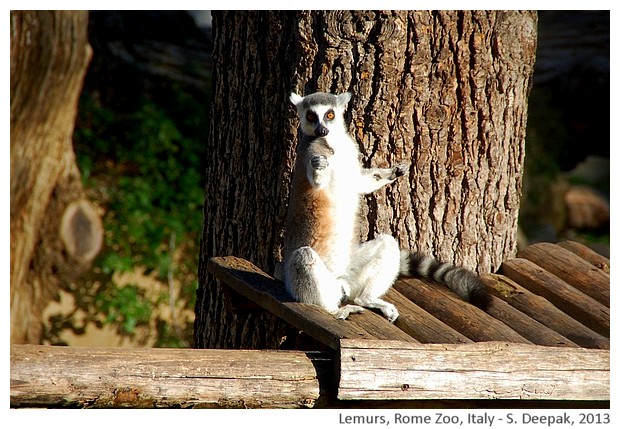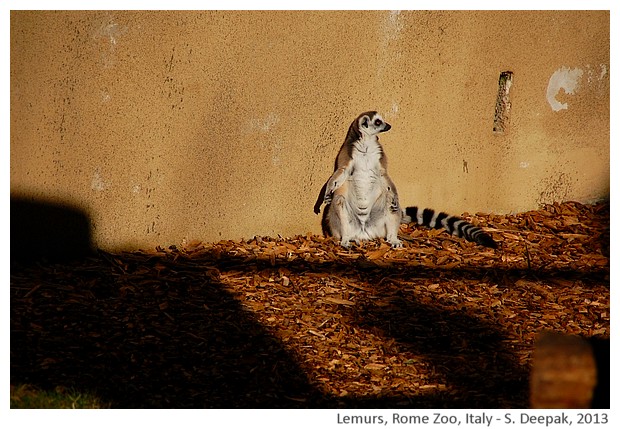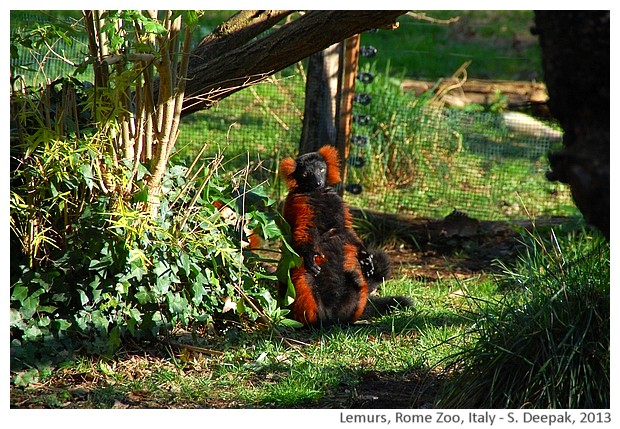 Rome, Italy: Old style sari and clothe shops in India have shopkeepers sitting cross-legged, waiting for clients. I was reminded of them when I saw the lemurs, originally from Madagascar, in the Rome zoo. They are funny looking animals, the size of a rabbit, with owlish shining round eyes, rat-like mouth and a cat-like long tail.
रोम, इटलीः पुरानी दिल्ली में कपड़े या साड़ियों की दुकानों में पालथी मार के लाला जी बैठे होते हैं कि कोई ग्राहक आये. रोम के चिड़ियाघर में मादागस्कार के मूल पशु लेमूरों के बैठने के अन्दाज़ को देखा तो वही लाला जी याद आ गये. अजीब विदूषक जैसे पशु हैं, आकार में खरगोश जैसे, उल्लू जैसी गोल चमकती आँखें, चूहे जैसा मुँह और बिल्ली जैसी लम्बी पूँछ.
Roma, Italia: Nei negozi indiani di vecchio stile dove vendono i sari e le stoffe, vi sono i negozianti seduti con le gambe incrociate che aspettano i clienti. Mi sono ricordato di quei negozianti quando ho visto i lemuri, originari del Madagascar, allo zoo di Roma. Sono animali un po' strani, grandi come un coniglio, con gli occhi rotondi e luccicanti dei guffi, la bocca come quella dei ratti e la lunga coda dei gatti.
***