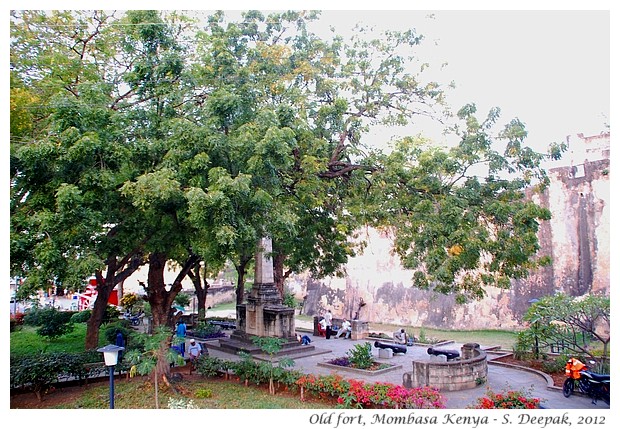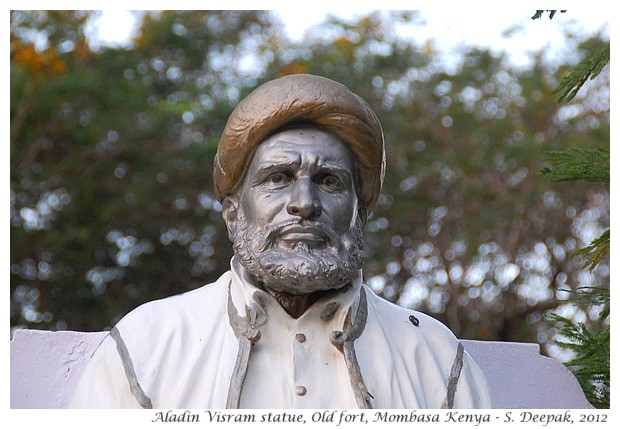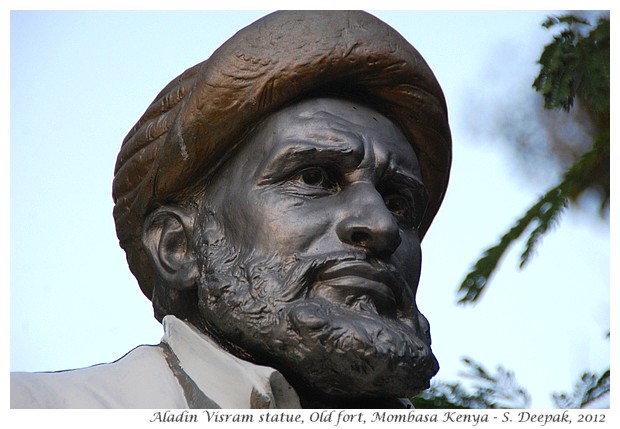 Mombasa, Kenya: Near the Portuguese old fort, there is a statue of an Indian merchant, whose name was Aladin Visram and who had come here as a 12 year old boy from Kutch region in 1863. Such stories raise two kinds of thoughts in my mind. On one side this is a story of a poor boy, forced to leave his home, who changed his life through his hard work. At the same time, I ask myself about how much of that change came from exploitation of local persons.
मोमबासा, कीनियाः पुर्तगाली पुराना किले के करीब ही एक भारतीय व्यापारी की मूर्ती लगी है, जिनका नाम था अलादीन विस्राम जो सन 1863 में कच्छ से यहाँ आये थे और यहाँ के बड़े व्यापारी बने. इस तरह की कहानियों से मेरे मन में दो तरह के भाव उठते हैं. एक ओर यह गरीब बच्चे की कहानी है जिसे बचपन में घर त्यागना पड़ा और जिसने मेहनत से अपना जीवन बदल लिया. दूसरी ओर इसी कहानी से मन में प्रश्न उठता है कि उसके जीवन बदलने में स्थानीय लोगों को गुलाम बना कर उनका शोषण करने का कितना हाथ था?
Mombasa, Kenya: Vicino alla rocca portoghese, c'è la statua di un commerciante indiano che si chiamava Aladin Visram ed era arrivato qui dalla regione di Kutch, nel 1863 quando aveva 12 anni. Queste storie, sollevano due tipi di pensieri in me. Da una parte la vedo come la storia di un bambino povero costretto a lasciare la sua casa che era riuscito a cambiare la sua vita con duro lavoro. Dall'altra, mi chiedo quanto di questo cambiamento era dovuto allo sfruttamento delle persone locali.
***