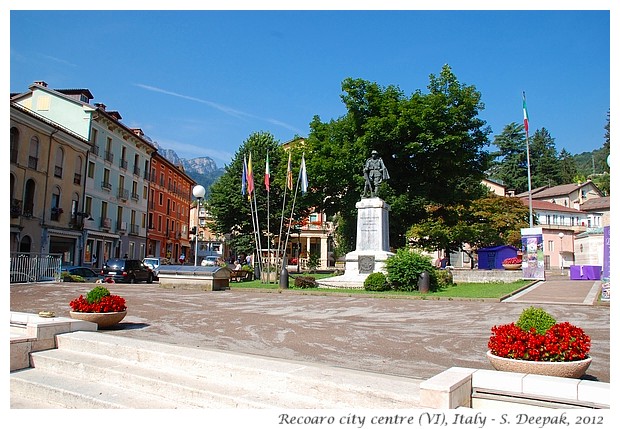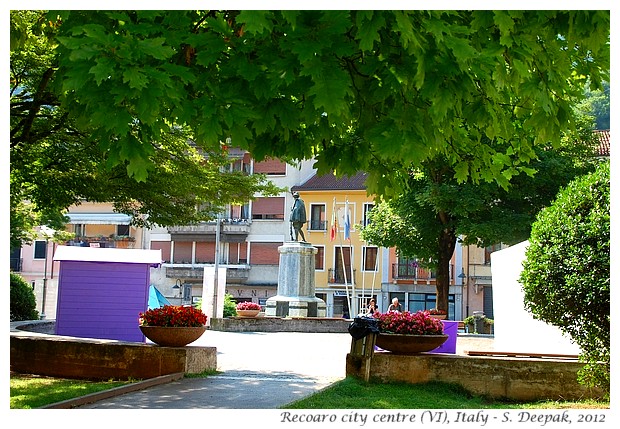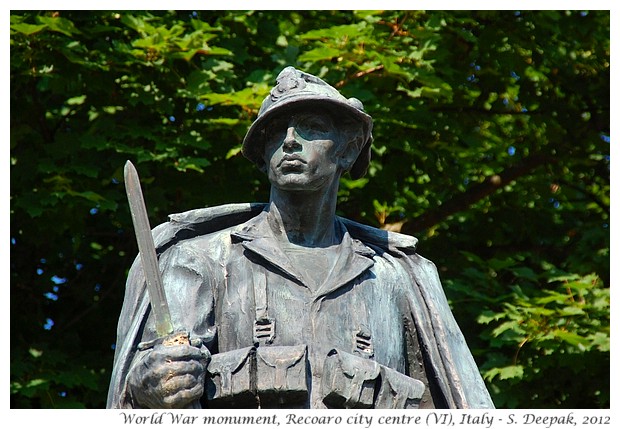 Recoaro, Italy: Here for any small or big city, often when we talk of some place, we also talk of the city "centre". For example, when persons tell you about their home address, they also say how far it is from the centre. "City centre" means a big square, cathedral and municipality. Usually railway station and shops are close. When you visit a new city, you usually visit its city centre. I think that the idea of city centre comes from Romans and it reached most of Europe through the Roman empire. Today's images have city centre of Recoaro, a tiny mountain town, which also has a soldiers' monument.
रेकोआरो, इटलीः यहाँ कोई भी छोटा या बड़ा शहर हो, अक्सर जब किसी जगह की बात होती है तो "शहर के केन्द्र" की बात भी होती है. जैसे कि लोग अपने घर का पता बताते समय यह भी बताते हैं कि केन्द्र से कितनी दूर है. "शहर का केन्द्र" यानि शहर के बीच में खुली जगह (केन्द्रीय स्कावयर), उसके पास कैथेड्रल और नगरपालिका भवन. अक्सर रेलवे स्टेशन और दुकानें भी करीब होती हैं. किसी भी नये शहर में जाना हो, सबसे पहले लोग उसके "केन्द्र" को देखने जाते हैं. मेरे विचार में यह "केन्द्र" बनाने की परम्परा रोमन समय से है जो रोमन साम्राज्य के साथ यूरोप के अधिकतर भाग में फ़ैली. आज की तस्वीरों में पहाड़ों में बसे छोटे से रेकोआरो शहर का केन्द्र, जहाँ सैनिक स्मारक भी बना है.
Recoaro, Italia: Qui, spesso quando parliamo delle città, parliamo anche del "centro della città". Per esempio, quando le persone parlano della propria casa, dicono anche quanto lontano è dal centro. "Centro della città" significa una piazza centrale, la cattedrale e il municipio. Spesso la stazione ferroviaria e i negozi non sono lontani. Quando visiti una nuova città, vai anche a visitare il suo centro. Penso che l'idea del "centro" viene dai romani e l'impero romano l'ha portata in tutta l'Europa. Le immagini di oggi hanno il centro di Recoaro, una piccola città di montagna, dove c'è anche il monumento ai caduti di guerra.
***