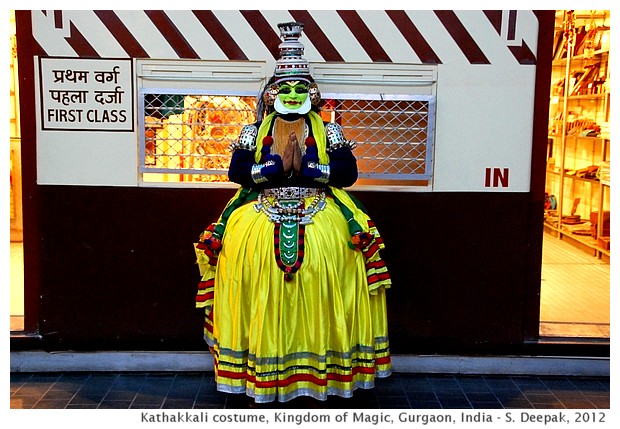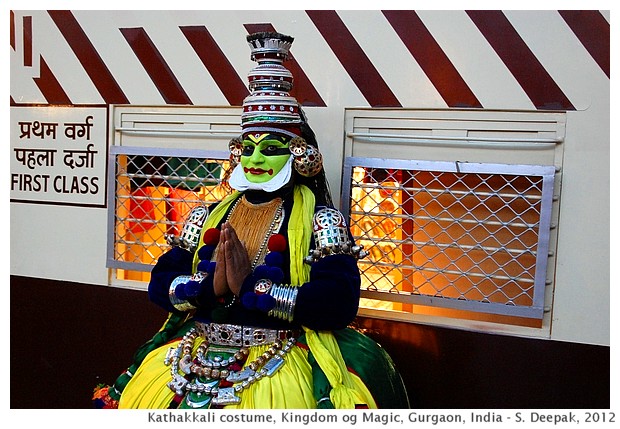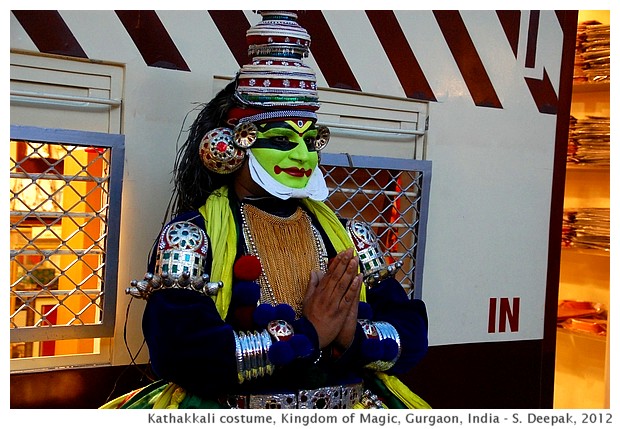 Gurgaon, India: A famous monument or a dancer in a beautiful dress, we want to be photographed next to them, so that we have the satisfaction of showing everyone that we were also there. The person in this kathakkali dress had the same job at "Kingdom of Magic", to be a companion of the pictures of the visitors.
गुड़गाँव, भारतः चाहे कोई प्रसिद्ध स्मारक हो या सुन्दर पौशाक पहने नर्तक या नर्तकी, साथ में खड़े हो कर फोटो खिंचवाने की चाह स्वाभाविक है, ताकि मन को तसल्ली मिले कि सबको दिखा सकें कि हम भी वहाँ गये थे. इस तस्वीर के कथ्थक्कली पौशाक पहने सज्जन का भी यही काम था, "किंगडम आफ़ मेजिक" में आये लोगों के साथ तस्वीरें खिचवाना.
Gurgaon, India: Un monumento famoso o un danzatore/ una danzatrice in un costume meraviglioso, tutti noi desideriamo farci fotografare accanto, per avere la soddisfazione di mostrare agli altri che anche noi ci siamo stati. La persona vestita nel costume di kathakkali di queste immagini aveva la stessa funzione, doveva farsi fotografare con i visitatori di "Regno della magia".
***