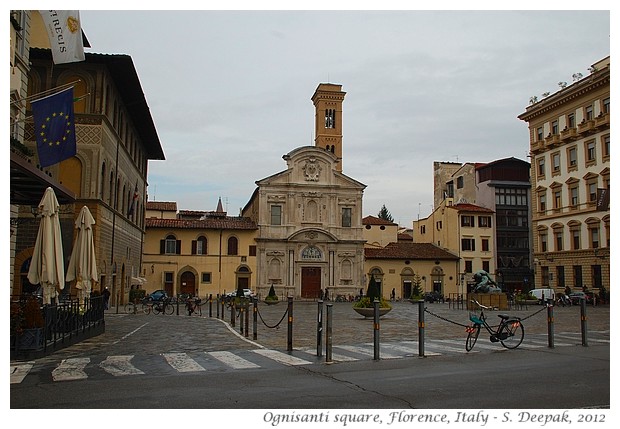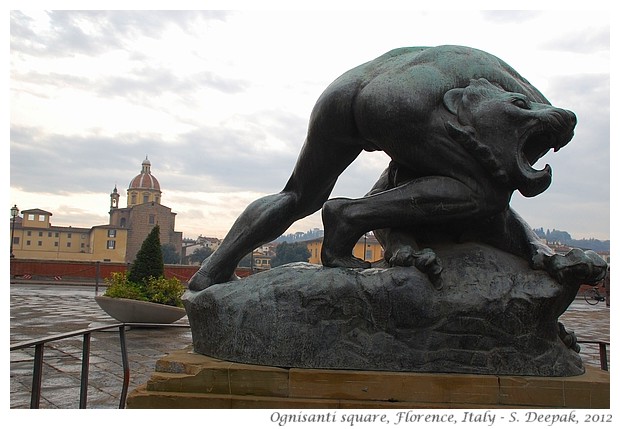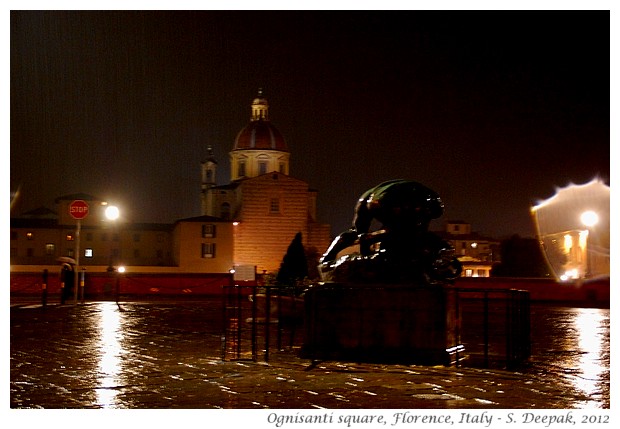 Florence, Italy: In 1256, when the All Saints chruch was built, this part of Florence was the centre for making, colouring and knitting wool. In 1937 the statue of "Hercules fighting with the lion" made by Romanelli was installed in front of the church and the river Arno. That was the time of fascist government of Mussolini in Italy. Fascism placed a lot of importance on the manly ideals of fight, bravery and fearlessness. Perhaps for that reason they chose the subject of this statue from the Greek myth of the brave hero Hercules.
फ्लोरैन्स, इटलीः जब 1256 में ओन्यीसाँती चर्च (सभी संतों का चर्च) बनाया गया, उस समय शहर का यह हिस्सा ऊन बनाने, रँगने और बुनने का केन्द्र था. आर्नो नदी के किनारे पर बने चर्च के सामने 1937 में "हरकुलिस और शेर की लड़ाई" की मूर्ति लगायी गयी जिसके शिल्पकार थे रोमानेल्ली. वह समय था जब इटली में मुसोलीनी की फासिस्ट सरकार थी. फासीवाद में लड़ाई, बहादुरी, भयहीनता जैसे पुरुषार्थ गुणों को बहुत महत्व दिया जाता है, शायद इसी लिए इस मूर्ति के लिए ग्रीक मिथकों के बहादुर नायक हरकुलिस को चुना गया था.
Firenze, Italia: Nel 1256 quando fu costruito la chiesa di Ognisanti, questo quartiere era il centro di produzione e tinteggiatura dei panni di lana. Nel 1937, la statua di "Ercole che lotta con il leone" di Romanelli fu installata di fronte alla chiesa e il fiume Arno. Era l'epoca del fascismo di Mussolini in Italia. Il fascismo venera le qualità maschili di lotta, bravura, mancanza di paura. Forse per questo motivo, avevano scelto Ercole, il bravo eroe della mitologia greca, come il soggetto della scultura.
***