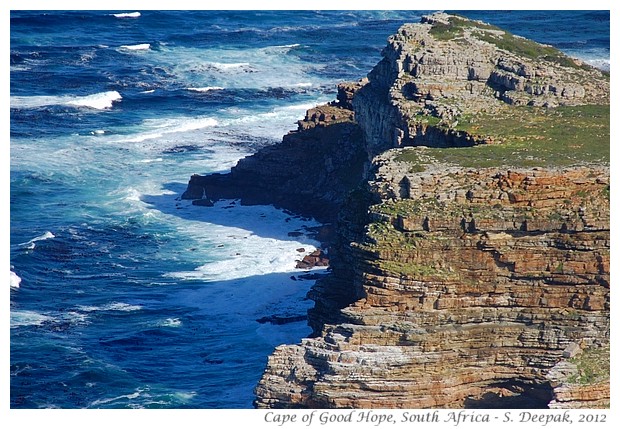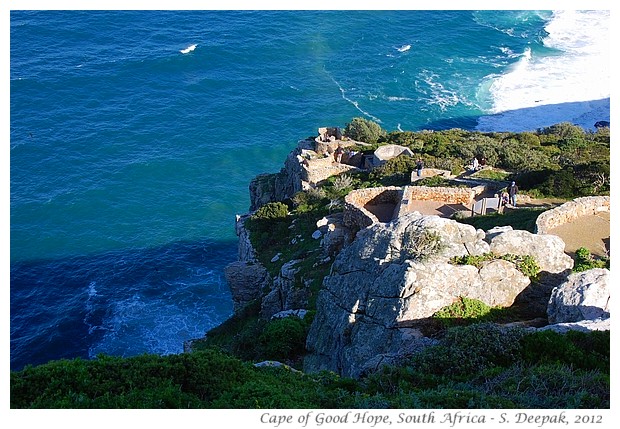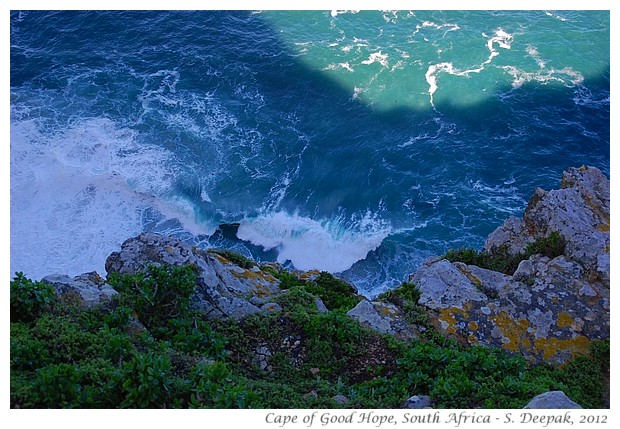 South Africa: Ships travelling from Europe towards Asia crossed the southern tip of Africa and travelled east for the first time in 1488. To the mountain at that southern tip they gave the name of "Cape of Good Hope". They built a light house at that point to guide the other ships. Near by, Indian ocean meets the waters of Atlantic ocean. Rocks with colourful moss, bright greenery, blue waves of the ocean capped by white foam, it presents a beautiful panorama.
दक्षिण अफ्रीकाः यूरोप से एशिया जाने वाले पानी के जहाज़ 1488 में पहली बार अफ्रीका के दक्षिण कोने तक पहुँच कर पूर्व की ओर यात्रा कर सके. उस कोने पर खड़े पहाड़ को उन्होंने "सुखद आशा का मस्तक" का नाम दिया और वहाँ एक द्वीप्ती स्तम्भ बनवाया जो सागर में जाते जहाज़ों को राह दिखा सके. यहीं करीब में हिन्द महा सागर और एटलान्टिक महा सागर मिलते हैं. चट्टानें, उन पर जमी रंग बिरंगी काई, चमकती हरियाली, सफ़ेद झाग की झालर पहने सागर की नीलम लहरें, यह जगह बहुत मनोरम हैं.
Sud Africa: Navi che viaggiavano dall'Europa verso Asia avevano girato intorno alla punta sud dell'Africa per andare verso est, per la prima volta nel 1488. Avevano dato il nome di "Capo di Buona Speranza" alla montagna sulla punta sud della terra. Avevano costruito un faro su quella montagna per guidare le altre navi. Qui vicino, le acque dell'oceano Indiano incontrano l'oceano Atlantico. Le rocce con muschio di vari colori, il verde brillante della vegetazione, le onde azzurre dell'oceano sormontate di schiuma bianca, è un panorama molto bello.
***