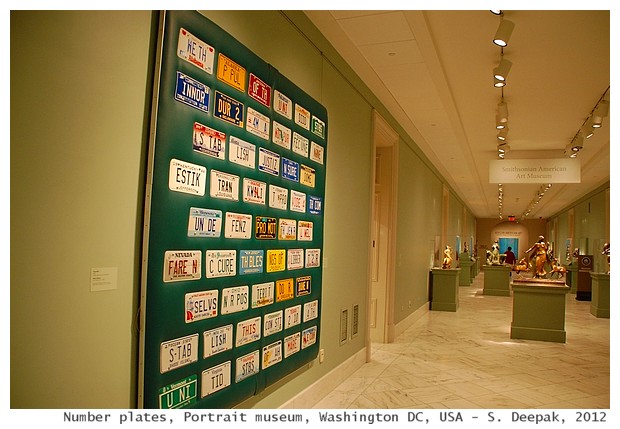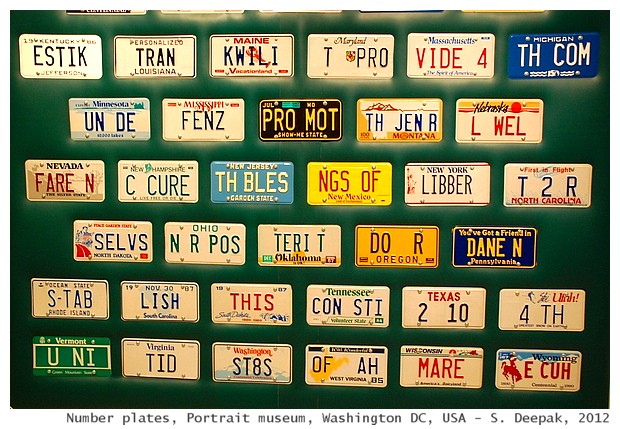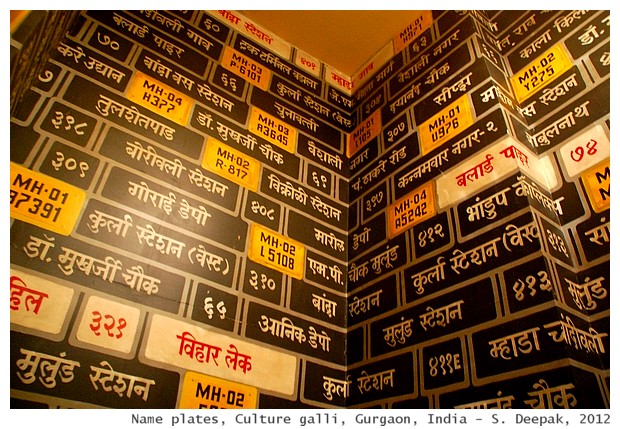 What is the difference between inspiration and copying? It is not always easy to answer this question. Today's images have vehicles' "number plates" from Portrait museum in Washington DC (USA) and the "name plates" of Mumbai's railway stations from "Culture street" of "Kingdom f Magic" in Gurgaon (India). The basic idea of the two is similar. What do think, it is inspiration or copying?
प्रेरणा लेने और नकल करने में क्या अन्तर है? इसका उत्तर हमेशा आसान नहीं होता. आज की तस्वीरों में वाशिन्गटन (अमरीका) के पोर्ट्रेट संग्राहलय से वाहनों के नम्बर प्लेटस की कला है और गुड़गाँव (भारत) की "मेजिक किन्गडम" की "सभ्यता गली" से मुम्बई के रेलवे स्टेशनों के नामों की प्लेटों की कला हैं. दोनो का मूल विचार एक जैसा है, तो इसे आप प्रेरणा कहेंगे या नकल?
Qual'è la differenza tra ispirazione e copiare? Non è sempre facile rispondere a questa domanda. Le immagini di oggi hanno le targhe dei veicoli dal museo dei ritratti di Washington DC (Stati Uniti) e i nomi delle stazioni ferroviarie di Mumbai dalla "stradina della cultura" dal "Regno della Magia" di Gurgaon (India). L'idea di base di entrambi è simile. Voi la chiamerete ispirazione o copia?
***