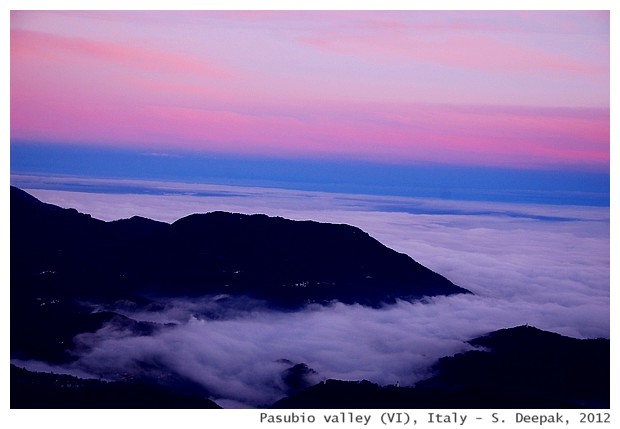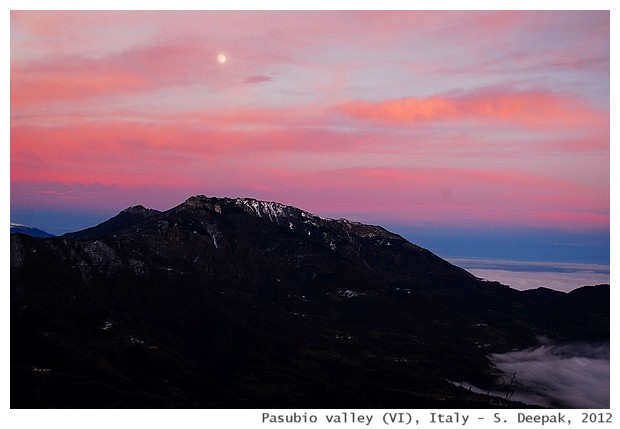 Pasubio valley, Italy: Down in the valley, it was cloudy and raining. As we climbed up towards the mountain pass, the clouds disappeared and the snow-covered mountains came out in their imposing glory. The cold and icey wind made us shiver. When we looked down it seemed that the valley was huddled beneath the thick blanket of white clouds, to protect itself from the cold.
पाज़ूबियो घाटीः नीचे वादी में बादल छाये थे, बारिश आ रही थी. जब पहाड़ी दर्रे की ओर ऊपर चढ़े तो बादल छँट गये और हिममँडित भव्य पर्वत श्रृँखला सामने आ गयी. ठँड और बर्फ़ीली हवा से काँप रहे थे. पहाड़ से नीचे देखा तो लगा कि सर्दी से बचने के लिए घाटी, सफेद बादलों की रजाई सिर तक ताने पड़ी है.
Valle di Pasubio, Italia: La valle era coperta dalle nuvole, e pioveva. Quando siamo saliti verso il passo, le nuvole si sono diradate e si vedevano le magnifiche montagne coperte dalla neve. Tremavamo dal freddo e dal vento gelido. Quando abbiamo guardato verso il basso, la valle sembrava raggomitolata sotto la coperta candida delle nuvole per ripararsi dal freddo.
***