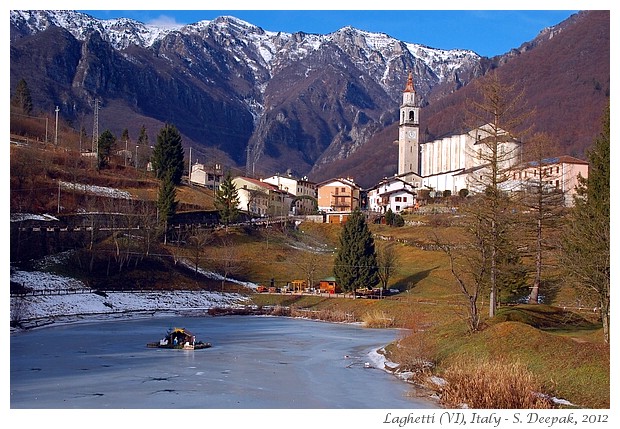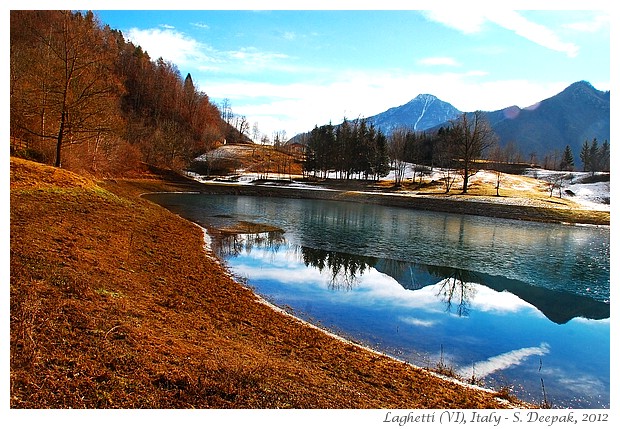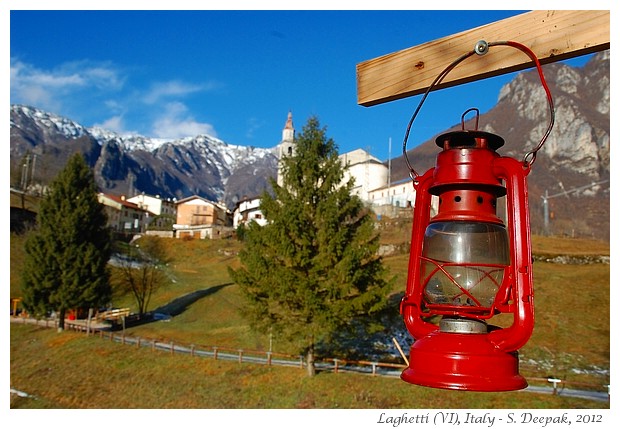 Laghetti, Italy: We went for another visit to the area of lakes. We found that the smaller lake was completely frozen, and a christmas (nativity) float was built on it. All around this lake, lanterns were put up as christmas decorations. Almost half the surface of the other bigger lake had some ice, but perhaps this side received more sun light and it had not frozen.
लागेत्ती, इटलीः वापस छोटी झीलों की ओर घूमने गये तो पाया कि एक झील की पूरी सतह बर्फ से जमी हुई थी और उस पर क्रिसमस की झाँकी बनायी गयी थी. आसपास क्रिसमस की सजावट के लिए लालटेनें लगी थीं. दूसरी कुछ बड़ी झील की आधी सतह पर कुछ बर्फ़ थी, पर शायद उस ओर सूरज की रोशनी अधिक थी इसलिए वह नहीं जमी थी.
Laghetti, Italia: Siamo tornati alla zona dei laghi per un'altra visita. Abbiamo trovato che il piccolo lago era completamente ghiacciato e avevano costruito un presepe sopra. Avevano messo su delle lanterne tutto intorno al lago, come le decorazioni di natale. Circa la metà del altro, più grande lago aveva un po' di ghiaccio, forse perché questo lato riceve più sole e il lago non era ghiacciato.
***
You can see
a summer view of these lakes on this post
that I had written a couple of weeks ago.
***