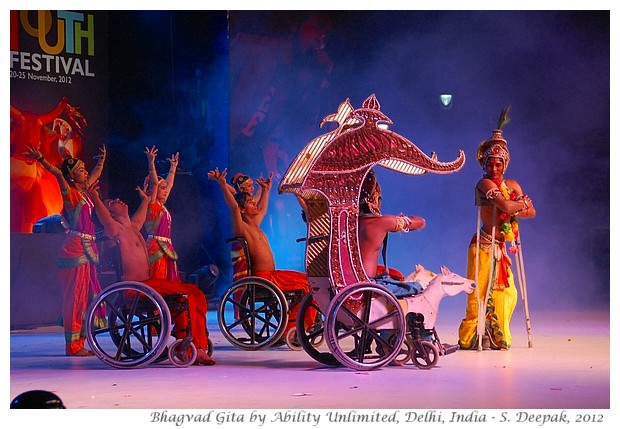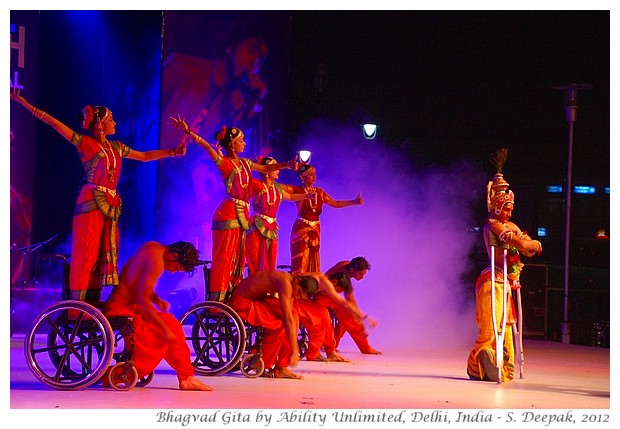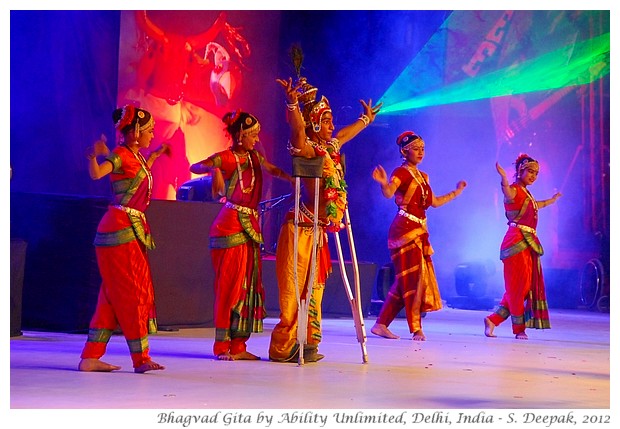 Delhi, India: I saw the dance drama "Bhagvad Gita" directed by Guru Salauddin Pasha, whose artists were persons with disabilities from the organisation
Ability Unlimited
. With the music of mantras from Gita explaining its philosophy, it touched my heart profoundly. For many decades I have worked in the area of development and rehabilitation of persons with disabilities, yet deep in my heart perhaps there were still some hidden barriers. For example, I had never thought that a man with disability can be shown as God. When I saw Gulshan Kumar in the role of Lord Krishna, this barrier was removed.
दिल्ली भारतः गुरु सलाउद्दीन पाशा द्वारा निर्देशित नृत्य नाटिका "भग्वद गीता" देखी जिसके सभी कलाकार "
एबिलिटि अनलिमिटिड
" (अंतहीन प्रतिभा) के विकलाँग नवयुवक तथा नवयुवतियाँ हैं. गीता के मंत्रों के संगीत के साथ उसके दर्शन का संदेश देती यह नृत्य नाटिका मेरे मन को छू गयी. मैं कई दशकों से विकलाँगता विकास तथा पुनर्निवास क्षेत्र में काम कर रहा हूँ लेकिन शायद मन में गहरी छुपी अब भी कुछ दीवारें थीं. जैसे कि सोचा नहीं था कि कोई विकलाँग युवक भी भगवान का भाग निभा सकता है. भगवान कृष्ण के रूप में गुलशन कुमार को देखा तो मन में छुपी यह दीवार भी ठह गयी.
Delhi, India: Ho visto il balletto "Bhagvad Gita" diretto dal Guru Salauddin Pasha, dove tutti gli artisti erano giovani con disabilità dell'organizzazione
Ability Unlimited
(Abilità senza limiti). Con il sottofondo della musica dei mantra di Gita, il balletto mi ha toccato profondamente. Da diversi decenni lavoro in campo dello sviluppo e della riabilitazione delle persone con disabilità, ma nel profondo del mio cuore forse vi erano delle barriere nascoste. Per esempio, non avevo mai pensato ad una persona con disabilità nel ruolo di Dio. Ma quando ho visto Gulshan Kumar nelle vesti di Dio Krishna, questa barriera è scomparsa dentro di me.
***