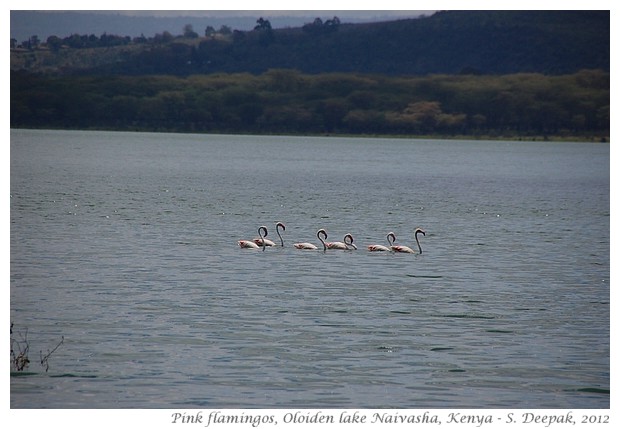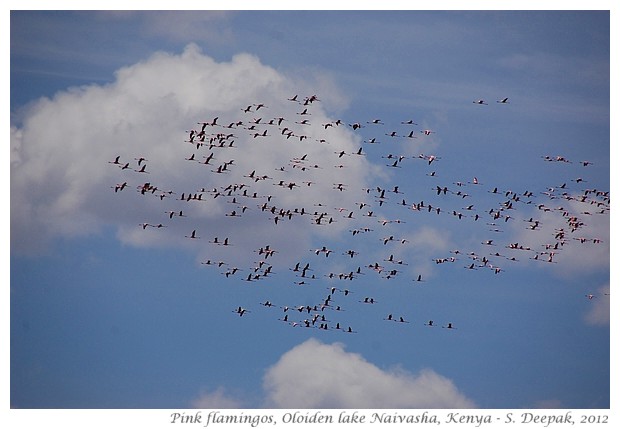 Naivasha, Kenya: Todays images have Lesser Flamingos from Kenya. I was wondering that these flamingos seem white rather than pink, so why are they called pink flamingos? The guide explained that the pink colour depends upon the blue-green algae in the lake that contains beta carotene which gives them the pink colour. If there are less algae in the lake, the flamingos remain white.
नयीवाशा, कीनियाः आज की तस्वीरों में कीनिया से छोटे हँसावर. मैं सोच रहा था कि यह हँसावर तो गुलाबी नहीं सफ़ेद हैं, तो इन्हें गुलाबी हँसावर क्यों कहते हैं? गाईड ने बताया कि इनका गुलाबी रंग झील में पायी जाने वाली हरी-नीली काई पर निर्भर करता है, जिसमें बीटा केरोटीन नाम का लाल रंग का पदार्थ होता है. अगर पानी में काई कम हो तो इनका रंग सफ़ेद सा ही रहता है.
Naivasha, Kenya: Le immagini di oggi hanno i fenicotteri minori da Kenya. Mi chiedevo come mai li chiamavano fenicotteri rosa se erano più bianchi che rosa? La guida ci ha spiegato che il colore rosa dipende dalle alghe verde-blu del lago che contengono il beta carotene che dà il colore rosa ai fenicotteri. Se vi sono meno alghe nell'acqua, i fenicotteri restano bianchi.
***