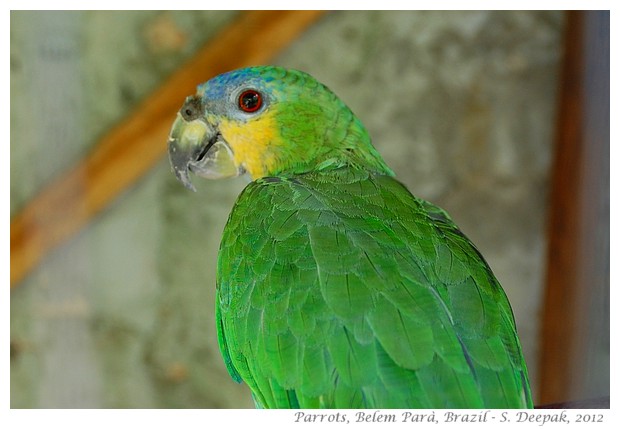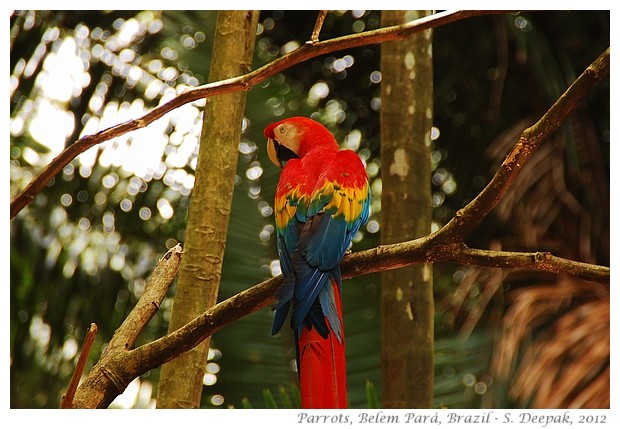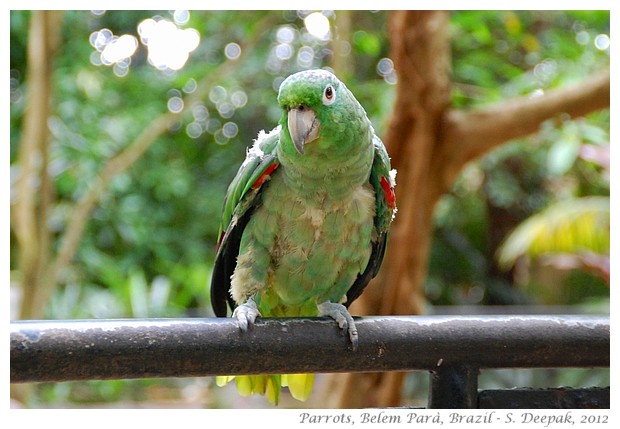 Parà, Brazil: If you ever had a pet animal or bird, you already know that they all have their distinct personalities. The pet parrots in today's images also had very different personalities. The parrot in the first image seemed shy and afraid. The one in the second picture behaved like a famous star. The one in the last picture was very curious, it came close to me to look at my camera.
परा, ब्राज़ीलः अगर आप ने कभी किसी पालतू जानवर को पास से देखा हो तो आप अवश्य समझते होगें कि हर जन्तु का अपना व्यक्तित्व, परनेलिटी होती है. आज की तस्वीरों के तीन पालतू तोतों की व्यक्तित्व बिल्कुल भिन्न थे. पहली तस्वीर वाला तोता शर्मीला डरपोक सा था. दूसरी तस्वीर वाले तोते के हीरो जैसे नखरे थे. और तीसरा तोता जिज्ञासू था, करीब आ कर मेरे कैमरे को देख रहा था.
(क्या कोई मुझे हिन्दी की कहावत का कुछ सन्दर्भ बता सकता है जब कहते हैं कि "उसके तोते उड़ गये" यानि हैरान रह जाना या परेशान हो जाना?)
Parà, Brasile: Se hai mai tenuto un animale domestico, già saprai che ogni animale ha la sua personalità. I pappagalli addomesticati nelle foto di oggi avevano personalità molto diverse. Il primo era timido e pieno di paura. Il secondo si dava tante arie, come una stella del cinema. Mentre, l'ultimo era molto curioso, mi è venuto vicino per guardare la mia macchina fotografica.
***