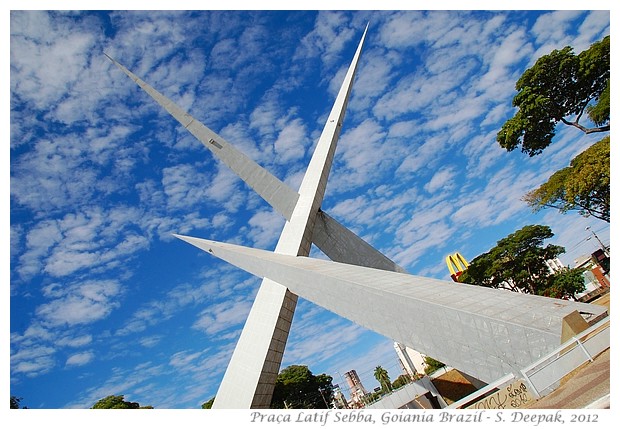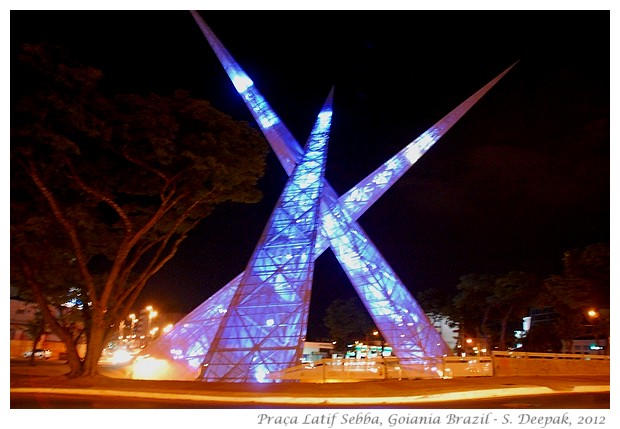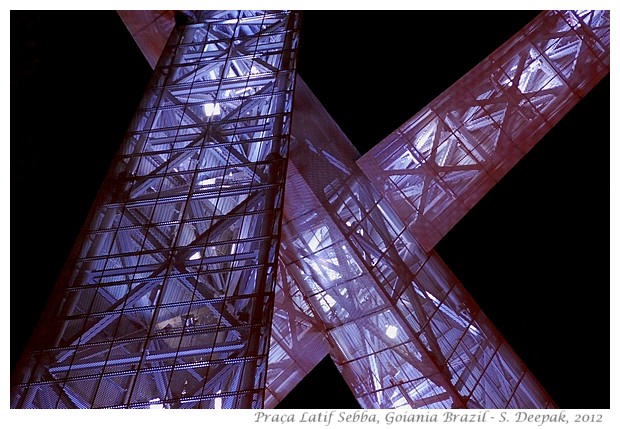 Goiania, Brazil: When you go back to an old familiar place in a city after some years and find it unrecognisable, how do you feel? It makes me remember the words of the ghazal "Awaragi" by singer Ghulam Ali that asked "There used to be a city here, what happened to it".I felt a little like that when I went to Latif Sebba square, which has a new traffic roundabout with an imposing modern monument. There was a time when it was known as Praça do Ratinho or the Rats square.
गोईयानिया, ब्राज़ीलः शहर की किसी जानी पहचानी जगह पर कुछ साल बाद जाईये और उसे बिल्कुल बदला पाईये, तो कैसा लगता है? मुझे ग़ुलाम अली के गाये "आवारागी" के शब्द याद आ जाते हैं, "इस दश्त में इक शहर था, वो क्या हुआ आवारागी". कुछ वैसा ही लगा लतीफ़ सेब्बा सक्वायर जा कर, जहाँ यातायात की सहूलियत के लिए नया गोलचक्कर बना है जहाँ एक भव्य आधुनिक शिल्प भी है. इसे कभी "प्रासा दो रातीन्यो" यानि चूहों का सक्वायर कहते थे.
Goiania, Brasile: Come ti fa sentire quando torni ad una parte di una città che conoscevi e lo trovi completamente cambiato? Quando ciò succede a me, penso alla canzone "Awaraghi" di Ghulam Ali che chiedeva, "C'era una città qui una volta, cosa le è accaduto". Ho sentito un po' così quando sono stato alla piazza Latif Sebba, che ora ha una nuova giratoria con un grande monumento moderno. Una volta la chiamavano Praça do Ratinho o la piazza dei ratti.
***