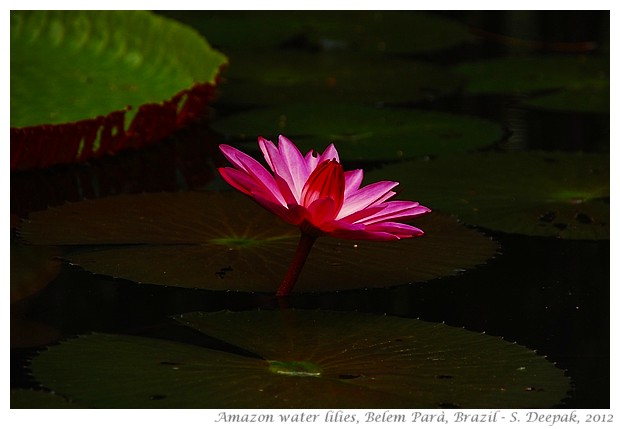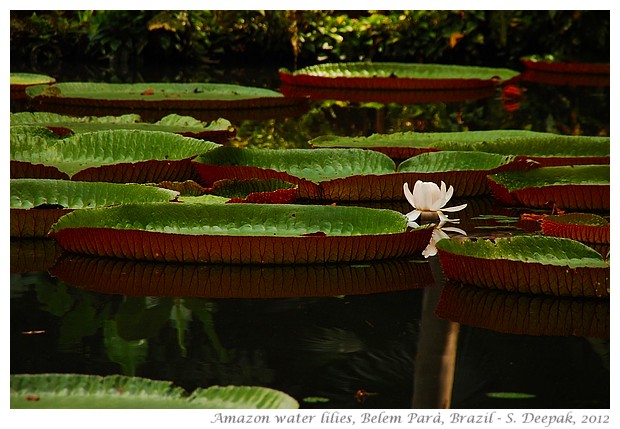 Belem, Parà, Brazil: A pond in a park had two kinds of Amazon water lilies. One had red flowers with flat and not so big round leaves, that loooked like lotus. The other was Victoria lily with white flowers and giant round plate like leaves, green at the top and reddish on the underneath.
बेलेन, परा, ब्राज़ीलः एक बाग में छोटे से तालाब में दो तरह की जल कुमदिनी खिलीं थीं. एक लाल रँग वाली थी जो कमल के फ़ूल से मिलती जुलती है और जिसके पत्ते बहुत बड़े नहीं थे. दूसरी विक्टोरिया कुमुदिनी, जसके फ़ूल सफ़ेद होते हैं और पत्ते भीमकाय थालियों जैसे, ऊपर से हरे और नीचे से कुछ लाली लिये हुए.
Belem, Parà, Brazil: Un laghetto in un parco avevo due specie di ninfee acquatiche dell'Amazzonia. Una aveva i fiori rossi con le foglie piatte e rotonde, che somigliava al loto. L'altro era ninfea di Victoria, con fiori bianchi e foglie che somigliano a rotondi piatti giganti, verdi sopra e un po' rossi sotto.
***