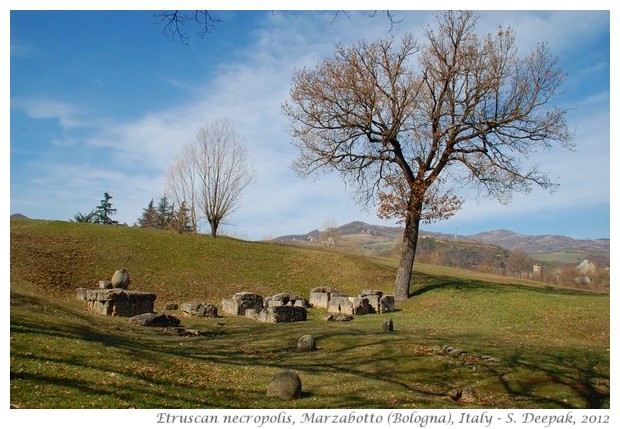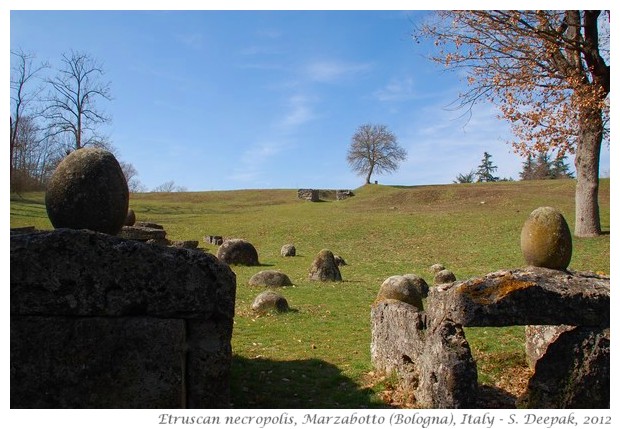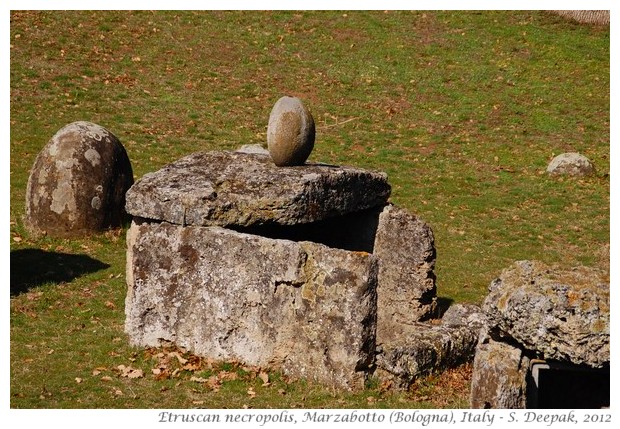 Marzabotto, Italy: Today's images are from a 2400 years old cemetery. These people are known as Etruscans. Around 2800 BC they came from Anatolia in eatern Turkey to central-north part of Italy. They had flourishing big cities. After about 400 years their civilization was lost. Probably they died in wars or were absorbed by other populations. Their old tombs and archeological remains of cities are left. They cremated their dead, and kept the ash in a terracotta vase inside the tomb. From the tombs jewellary and other things have been recovered. But it has not been possible to fully understand their language.
मार्ज़ाबोत्तो, इटलीः आज की तस्वीरें एक दो हज़ार चार सौ वर्ष पुराने कब्रिस्तान से हैं. इन लोगों को एतरुस्की के नाम से जाना जाता है. यह लोग करीब दो हज़ार आठ सौ साल पहले, पूर्वी तुर्की में अंतोलिया से आ कर इटली के मध्य भाग में बस गये. इन्होंने बड़े बड़े शहर बनाये. करीब चार सौ साल के बाद इनकी सभ्यता लुप्त हो गयी. शायद युद्धों में मरे मारे गये और जीतने वाली सभ्यता ने इन्हें आत्मसात कर लिया. इनके कब्रिस्तान और पुराने शहरों के पुरातन अवषेश बचे हैं. यह लोग शवों को जला कर राख को मिट्टी के बरतन में रख कर उसकी कब्र बनाते थे. इन कब्रों से इनके ज़ेवर तथा जीवन की अन्य वस्तुएँ मिली हैं जिनसे इनके बारे में जानकारी मिली है. लेकिन इनकी भाषा को पूरी तरह से नहीं समझा जा सका है.
Marzabotto, Italia: Le immagini di oggi sono da un cimitero vecchio di 2400 anni. Questo popolo è conosciuto come Etruschi. Circa il 2800 a.c. sono partiti da Anatolia in Turchia dell'est e si sono stabiliti nel nord-centro Italia. Avevano grandi e ricche città. Dopo circa 400 anni, la loro civiltà è andata persa. Forse sono morti nelle guerre e gli sopravvissuti sono stati assorbiti in altri popoli. Sono rimaste le loro necropoli e i resti archeologici delle loro città. Loro cremavano i morti e tenevano le ceneri nei vasi di terracotta nelle tombe. Nelle tombe sono stati trovati gioielli e altri oggetti della loro vita. Ma ancora non è stato possibile capire completamente la loro lingua.
***