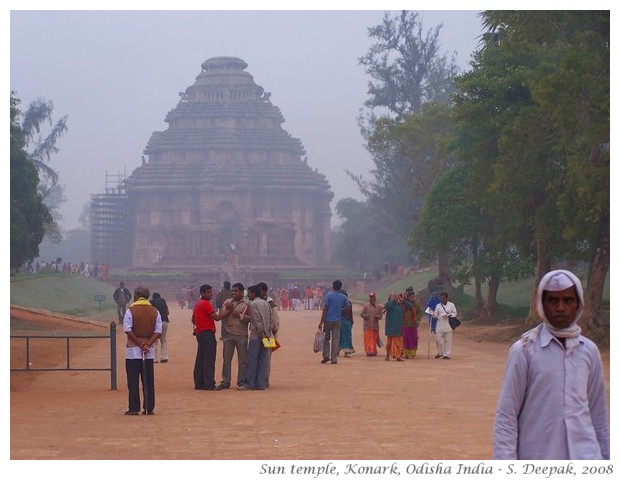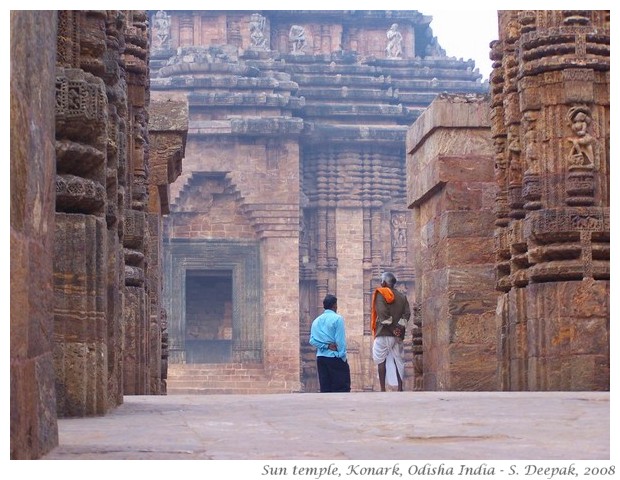 Konark, India: In India ordinary people wake up early for going around. In temples and gardens, you can find crowds of people thronging around, to take a walk, to listen to predications of the guru. In the west, in such places, you hardly find anyone before eight or nine in the morning. Today's images have pilgrims at the thirteenth century sun temple of Konark, in the early morning mist.
कोणार्क, ओडिसाः भारत में आम लोग सुबह सुबह उठ कर काम में लग जाते हैं. मन्दिर हो या बाग, सुबह के धुँधलके से ही भीड़ लग जाती है, घूमने के लिए, किसी गुरु जी का प्रवचन सुनने के लिए. जबकि पश्चिमी देशों में सुबह चाहे कहीं भी चले जाईये, आठ नौ बजे से पहले कोई विरला ही दिखता है. आज की तस्वीरों में हैं सुबह की धुँध में तैहरवीं शताब्दी के सूर्य मन्दिर को देखने आये तीर्थयात्री.
Konark, India: In India, la gente ordinaria, si sveglia presto alla mattina per andare in giro per le loro faccende. Nei templi e nei giardini, puoi trovare sempre persone venute per la passeggiata o per ascoltare la predica dei guru. In occidente, nei posti simili, è difficile trovare persone prima delle otto o nove di mattina. Le immagini di oggi hanno la nebbia della mattina e i pellegrini venuti a visitare il tempio del sole del tredicesimo secolo a Konark.
***