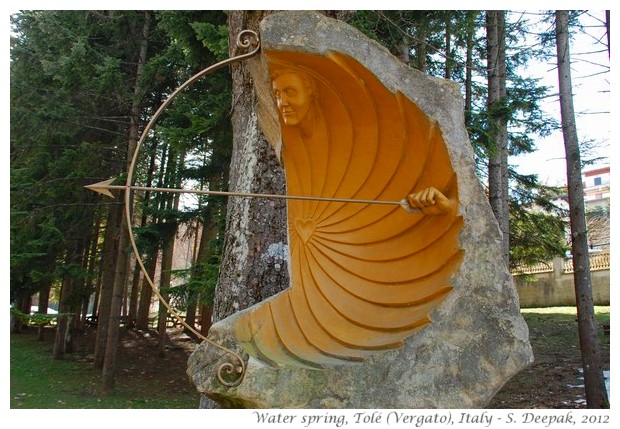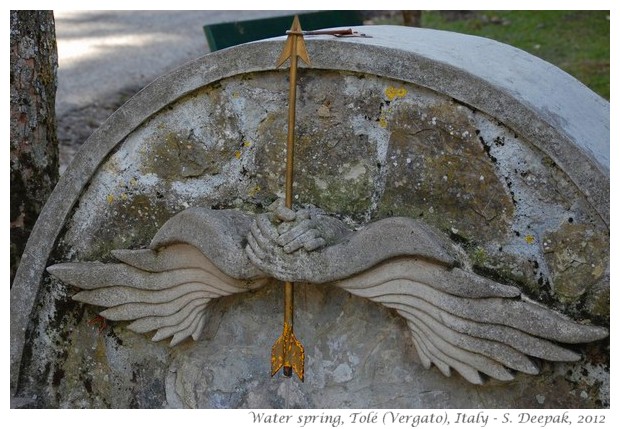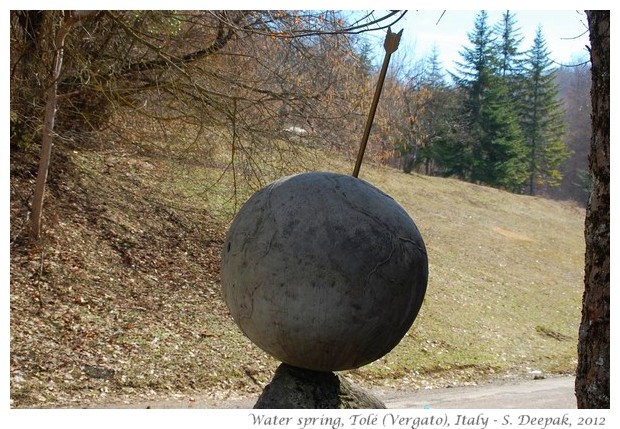 Tole, Italy: The medieval town of Tole nestled in the Apenines is known for its natural water springs. Near one of the springs, I saw this strange sculture that shows arrows in different ways. I tried but could not find out the story or the reason behind these arrows. May be these sculptures are based on some old local myth or story?
तोले, इटलीः पहाड़ों में बसा तोले शहर धरती से निकलने वाले जल स्रोतों के लिए प्रसिद्ध है. वहीं पर एक जल स्रोत के पास यह शिल्प देखा जिसमें तीरों को विभिन्न तरह से दिखाया गया है, लेकिन इनका क्या अर्थ है या इनके पीछे क्या कहानी है, यह चाह कर भी नहीं जान पाया. शायद यह शिल्प किसी स्थानीय प्राचीन लोककथा को चित्रित करते हैं?
Tolé, Italia: La città medievale di Tolé negli Appennini bolognesi è conosciuta per i suoi numerosi fonti d'acqua. Vicino ad una di queste fonti ho visto questa strana scultura che presenta tre frecce. Ho cercato ma non sono riuscito a trovare la storia o la spiegazione dietro questa scultura e le frecce. Forse questa scultura racconta qualche vecchia storia o mito locale?
***