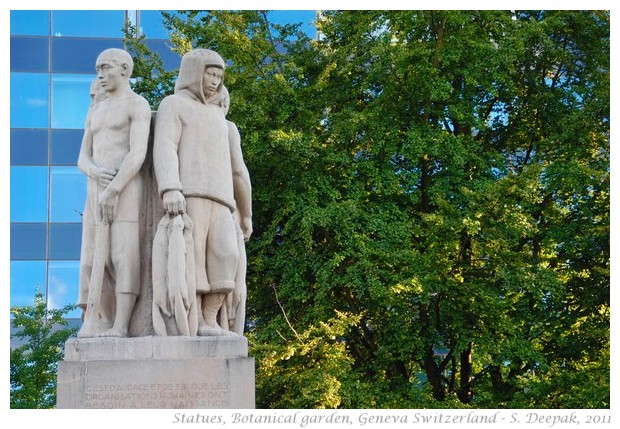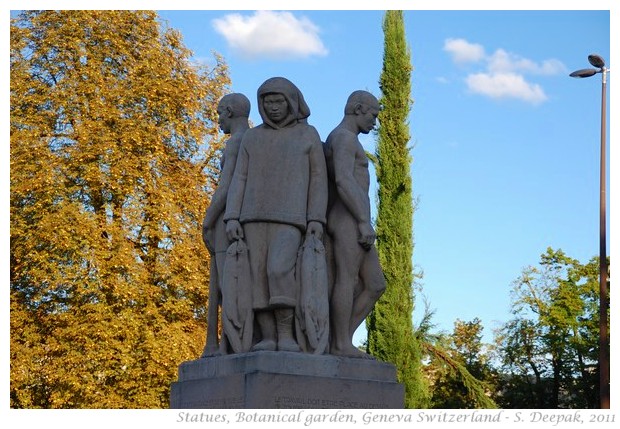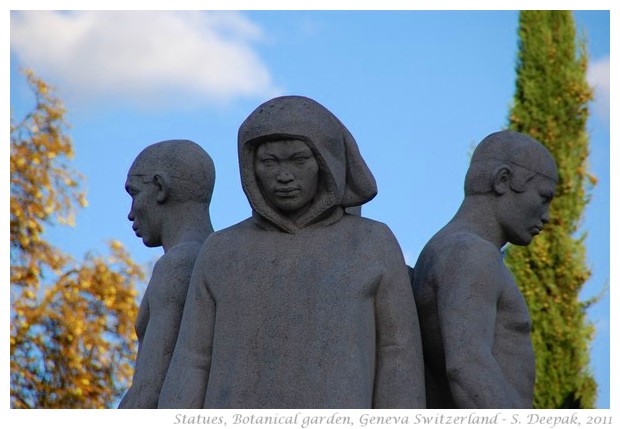 Geneva, Switzerland: The group of four statues at the crossing outside the botanical gardens looks similar to the Teen Murty (three statues) crossing in Delhi, even if in this group the men are dressed differently while in Teen Murty group, all three are dressed like soldiers. I liked it when by changing the angle of my camera, the colour of the statues seems different.
जेनेवा, स्विट्ज़रलैंडः बोटेनिकल गार्डन के बाहर चौराहे पर बना यह चार मूर्ति गुट दिल्ली के तीन मूर्ति चौराहे से मिलता जुलता है, हालाँकि इस शिल्प में चारों पुरुषों को विभिन्न पोषाकों में दिखाया गया है, जबकि तीन मूर्ति शिल्प में तीनों पुरुष सिपाही हैं. तस्वीर लेने के कोण बदलने से लगा कि मूर्तियों का रंग बदल गया हो, यह मुझे अच्छा लगा.
Ginevra, Svizzera: Il gruppo delle quattro statue all'incrocio del giardino botanico somiglia al famoso incrocio Teen Murty (3 statue) di Delhi, anche se qui i quattro uomini portano vestiti diversi mentre nel gruppo di Teen Murty, i tre uomini sono tutti soldati. Mi piace il fatto che cambiando l'angolo della macchina fotografica, il colore delle statue sembra diverso.
***