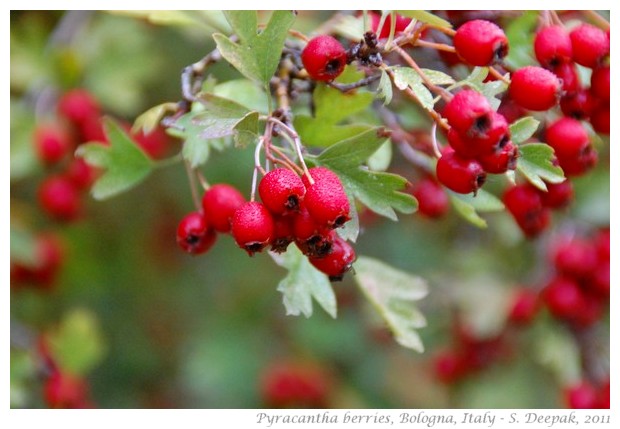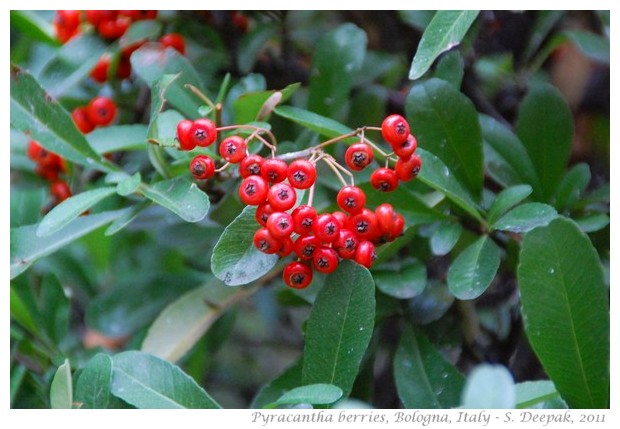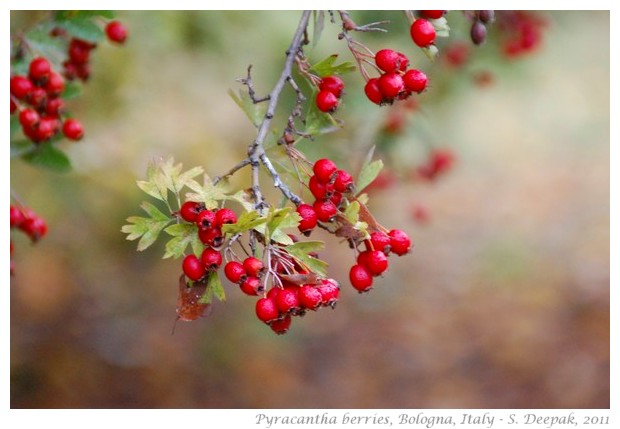 Bologna, Italy: This tree with berries like red earrings is found also in north India in the mountains, but I don't know it's Indian name. Some people think that these Pyracantha berries are poisonous, but that is not true. The berries are bitter but not poisonous. In cold winters, when birds do not find other things to eat, they can eat these berries.
बोलोनिया, इटलीः लाल बुँदों की तरह के बेर वाला यह वृक्ष उत्तरी भारत में पहाड़ों में भी मिलता है लेकिन वहाँ के लोग इसे क्या कहते हैं, मुझे मालूम नहीं. कुछ लोग कहते हैं कि यह पायराकानथा बेर जहरीले होते हैं, पर यह सच नहीं, बेर कड़वे अवश्य होते हैं लेकिन जहरीले नहीं. यहाँ पर बर्फ़ीली सर्दी में पक्षियों को खाने को न मिले तो वह यही बेर खा सकते हैं.
Bologna, Italia: Questo albero con le bacche come gli orecchini rossi si trovano anche nel nord dell'India nelle zone montagnose ma non so il loro nome indiano. Alcuni pensano che queste bacche di Piracanta sono velenose, ma non è vero. Sono amare ma non velenose. Durante gli inverni freddi, se gli uccelli non trovano altro da mangiare, possono mangiare queste.
***