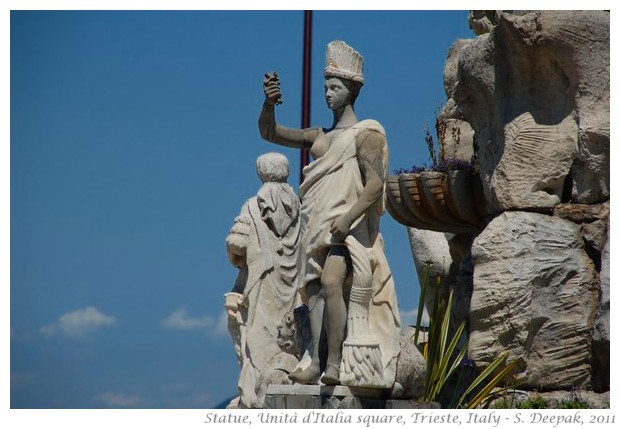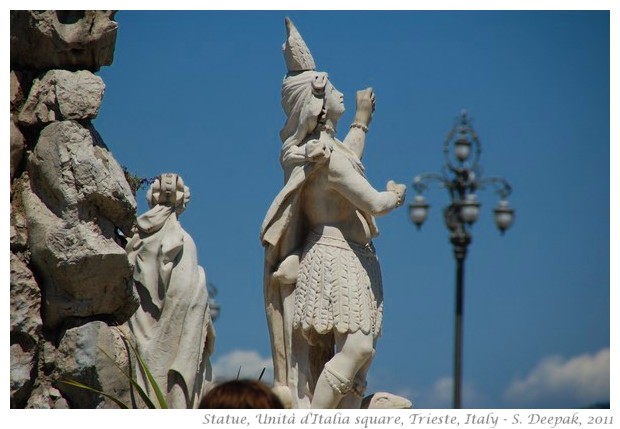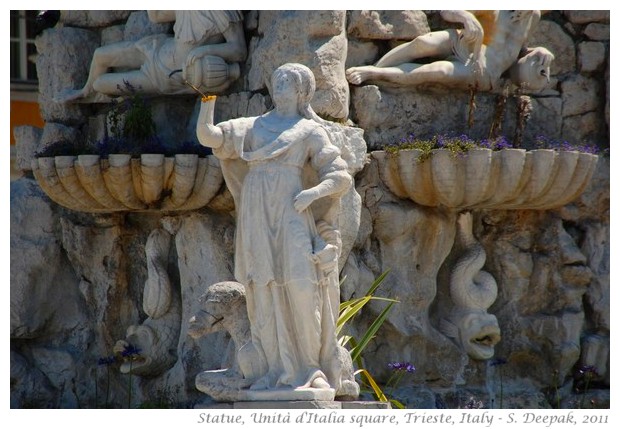 Trieste, Italy: As children we used to play a game called "statue", where you had to stop in whatever pose you were. In Bollywood film "
Dil de chuke sanam
", the hero Salman Khan forced to leave the home, forces the crying heroine Aishwarya to stop by this game. I feel there is an inherent sadness in dancing statues, they make me think of Ahalya story from "Ramayana", turned in a stone by a curse.
त्रिएस्ते, इटलीः बचपन में खेल खेलते थे, "स्टेयू", इस शब्द के बोलने पर आप जिस मुद्रा में हों उसमें रुक जायें. "हम दिल दे चुके सनम" का वह दृश्य याद है जिसमें घर छोड़ कर जाता सलमान खान, रोती हुई एश्वर्या को इसी खेल से मूर्ति बना देता है? मुझे भी नाचती मूर्तियों में दुख छुपा लगता है, जैसे अहिल्या हो जो श्राप से थम गयी हो.
Trieste, Italia: Da bambini giocavamo "la statua" e dovevi fermarti in una posa. Nel film di Bollywood, "
Dil de chuke sanam
", l'eroe Salman Khan costretto a lasciare la casa, costringe l'eroina Aishwarya a fermarsi con questo gioco. Anch'io sento una tristezza nascosta nelle statue danzanti e penso alla storia di Ahalya dal libro "Ramayana", diventata pietra per una maledizione.
***