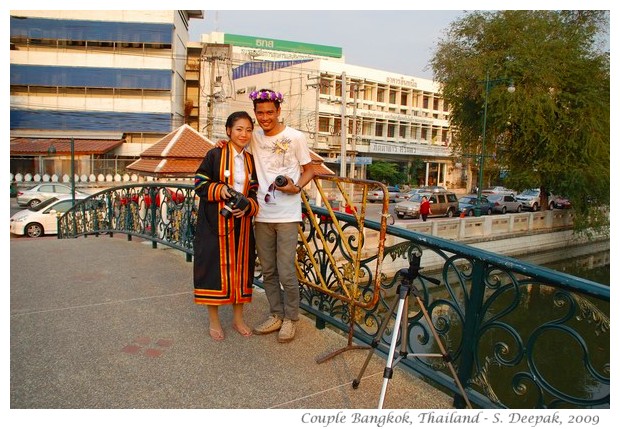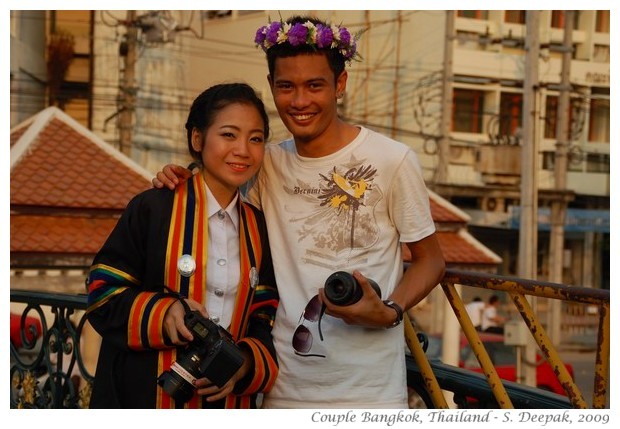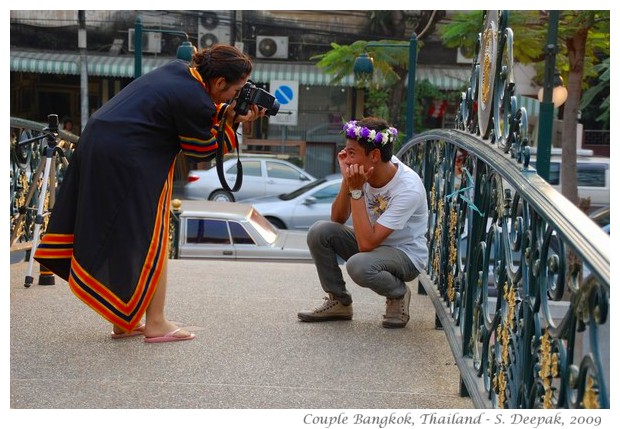 Bangkok, Thailand: I stopped on my way when I saw them. They seemed different. Often I see boys clicking pictures of girls and girls making poses. They were opposite. Boy had flowers around his head and was striking poses, while girl was clicking pictures. I asked them if I could take their picture, they smiled and agreed.
बैंकाक, थाईलैंडः उन्हें देख कर मैं रुक गया. वे कुछ अलग लगे. अक्सर लड़कों को लड़कियों की तस्वीरें लेते देखा है जिसमें लड़कियाँ विभिन्न मुद्राएँ बनाती हैं लेकिन वे उल्टे थे. लड़के ने सिर पर फ़ूल लपेटे थे, और विभिन्न मुद्राएँ बना रहा था, लड़की उसकी तस्वीर खींच रही थी. मैंने उनसे पूछा कि मैं उनकी तस्वीर खींचूँ तो मुस्करा कर मान गये.
Bangkok, Thailandia: Mi sono fermato quando li ho visti. Erano diversi. Spesso si vedono i ragazzi che fotografano le ragazze, mentre queste si mettono in diverse pose. Loro erano al contrario. Lui portava fiori intorno alla sua testa e si metteva in pose mentre lei scattava le foto. Ho chiesto a loro se potevo fotografarli, hanno accettato con un sorriso.
***