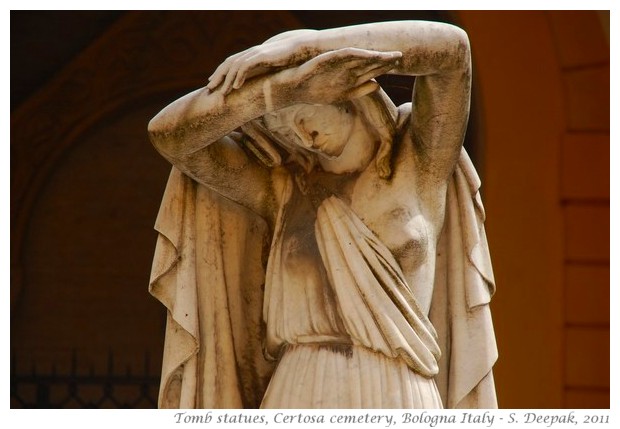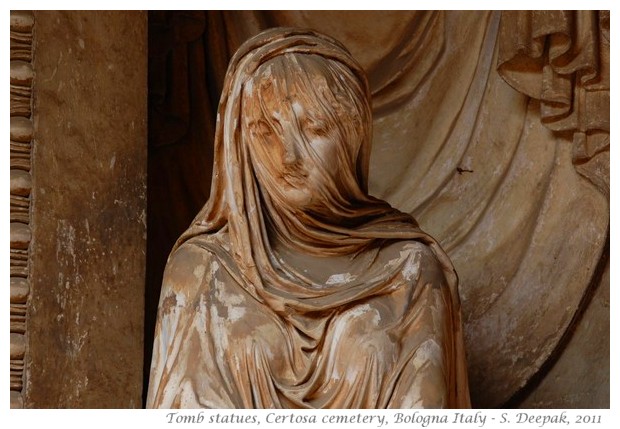 Bologna, Italy: Today's images present women figures expressing sorrow from the Certosa cemetry. The third image with wonderful effect of thin veil created in stone, reminds me of the well known statue of Rebecca in Salarjung museum in Hyderbad, that I had seen as a child.
बोलोनिया, इटलीः आज की तस्वीरों में चरतोज़ा के कब्रिस्तान से शोक में डूबी, पर्दे के पीछे छुपती नारी प्रतिमाएँ. तीसरी तस्वीर में पत्थर में झीने कपड़े जैसा प्रभाव दिखाना मुझे हैदराबाद के सालारजंग संग्रहालय की प्रसिद्ध रेबेक्का की प्रतिमा की याद दिलाता है जो बचपन में देखी थी.
Bologna, Italia: Le immagini di oggi hanno figure femminili che esprimono dolore, dal cimitero di Certosa. La terza immagine con il meraviglioso effetto del velo sottile creato in pietra, mi ha fatto pensare alla famosa statua di Rebecca al museo Salarjung di Hyderabad in India, che avevo visto da bambino.
***