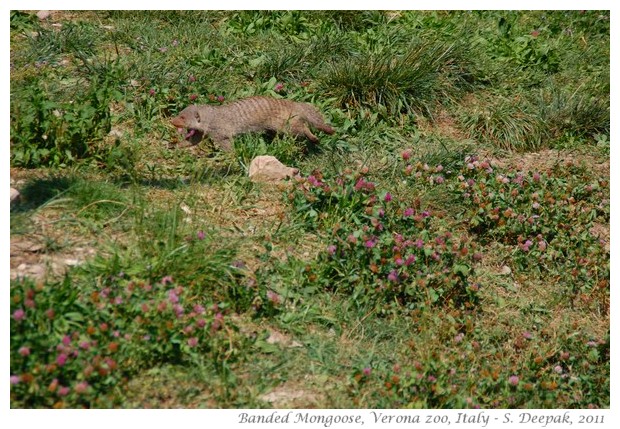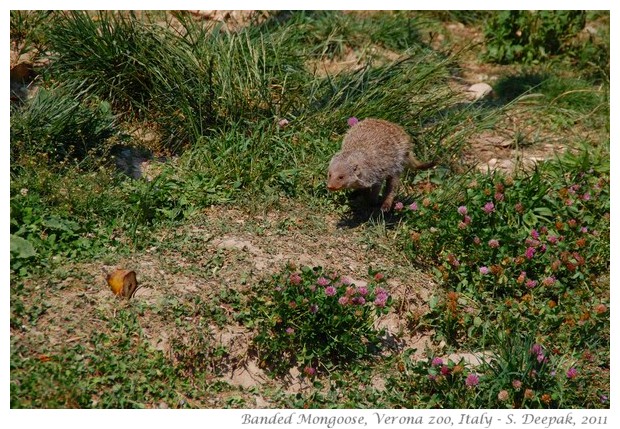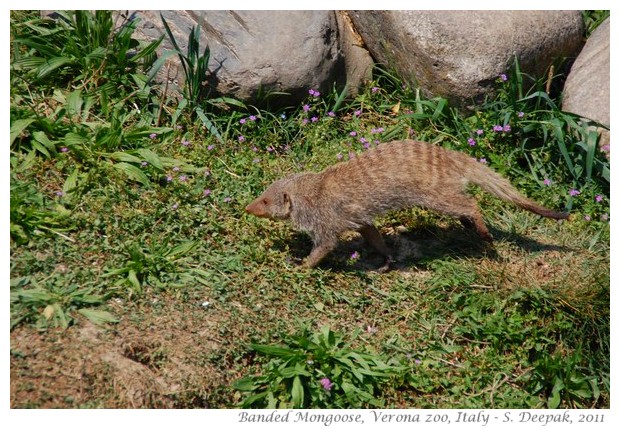 Verona zoo, Italy: The word Mongoose, comes from similar words in some Indian languages like Marathi, Kannada and Telugu. Today's images have banded mongoose from Africa. As a child I had seen mongoose mainly as part of travelling "madari" who showed the fights between snakes and mongoose. When I saw them in the zoo, it was completely different to see them playing, burrowing in the ground and running after each other. Some people do not like zoos, because they feel animals are mis-treated and it is not correct to imprison animals. However, I feel that if zoos provide proper environment, they can teach us about loving and respecting nature and wild life.
वेरोना चिड़ियाघर, इटलीः नेवले को अंग्रेज़ी में मन्गूज़ कहते हैं और यह शब्द मराठी, कन्नड़ और तेलुगू भाषाओं में नेवले के नामों से आया है. आज की तस्वीरों में है एक अफ्रीकी नेवला जिसकी पीठ पर धारियों के निशान होते हैं. मैंने नेवलों को बचपन में भारत में देखा था, जब मदारी साँप और नेवले की लड़ाई करवाते थे. उन भारतीय नेवलों से यह चिड़ियाघर के नेवले बिल्कुल अलग लगे, जो ज़मीन पर खोदे छेदों में घुसते, एक दूसरे के पीछे भाग कर खेल रहे थे. बहुत से लोग चिड़याघरों को उचित नहीं मानते क्यों कि अक्सर वहाँ जानवरों को छोटे पिँजरों में या बुरी हालत में बन्द रखा जाता है, लेकिन अगर चिड़ियाघर ठीक से बना जिसमें जानवरों को उनके सही वातावरण में रखा जाये तो बच्चों को प्रकृति तथा वन्य जीवन के बारे में दिखाना समझाना प्रभावकारी तरीके से हो सकता है.
Zoo di Verona, Italia: La parola mangusta deriva da simili parole in alcune lingue indiane come marathi, kannada e telugu. Le foto di oggi hanno mangusta zebrata dall'Africa. Da bambino conoscevo le manguste come animali che facevano la lotta con i serpenti negli spettacoli itineranti di strada. Invece vederli allo zoo era completamente diverso, perché giocavano, si nascondevano dentro i buchi, correvano uno dietro l'altro. Molte persone non vogliono gli zoo perché li vedono come maltrattamento degli animali. Invece penso che se uno zoo può fornire l'ambiente giusto agli animali, può essere un messaggio molto efficace per far rispettare la natura e gli animali.
***