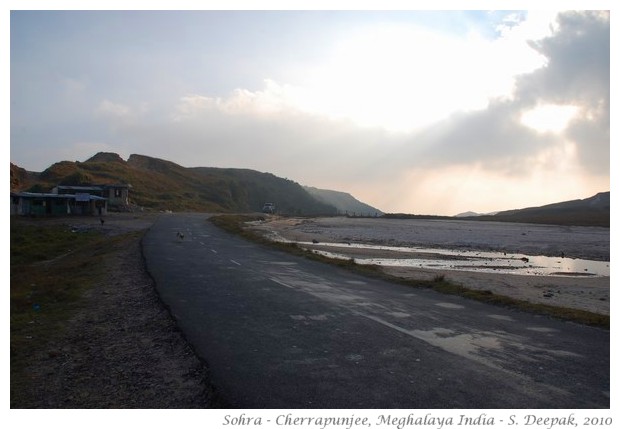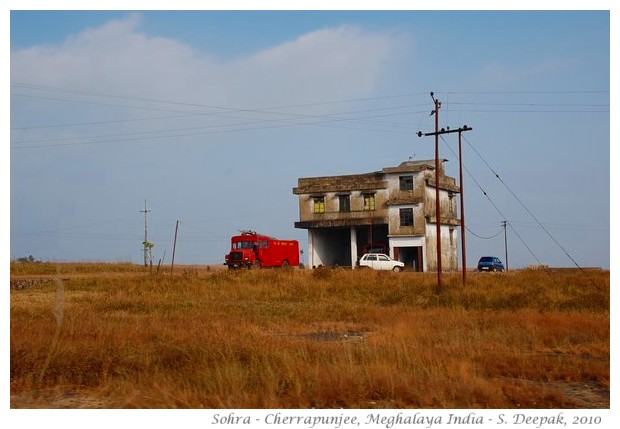 Sohra, Meghalaya, India: In Shillong when my friend proposed that we go to visit Cherrapunjee, I was very excited. As a child I had read about Cherrapunjee, as the place with most rain the world. When we reached there, on all sign boards, city's name was "Sohra" and my friend explained that it was the new name of Cherrapunjee. But I was really surprized to see mostly barren land except for some stretches of green. My friend said that it was no longer the rainiest place because now it rains more in a neighbouring district. However, I think that it is not only a change in nature, but wide tree-cutting must have something to do with it.
शोहरा, मेघालय, भारतः शिलांग में जब मित्र ने चेरापूँजि घूमने की बात की तो बहुत उत्सुकता से हाँ कह दी. बचपन से पढ़ा था कि दुनिया की सबसे बारिश वाली जगह है. वहाँ पहुँचे तो हर जगह "सोहरा" नाम लिखा था जिसे वहाँ के लोग "शोहरा" बोलते थे. मित्र ने बताया कि चेरापूँजि का यह नया नाम है, शायद वहाँ भी मुम्बई/बम्बई वाली बात थी. पर सबसे अधिक हैरानी हुई जब देखा कि बीच बीच में हरे भरे हिस्सों को छोड़ कर, बहुत सी जगह पर सूखी घास और बंजर धरती दिखती थी, तो वह बोले कि अब बारिश उतनी नहीं होती, और अधिक बारिश वाली जगह पास के जिले में है. मुझे लगा कि बात केवल प्रकृति के बदलाव के नहीं, पेड़ काट कर पर्यावरण को नष्ट करने की भी है.
Sohra, Meghalaya, India: A Shillong, quando mio amico ha proposto di andare a visitare Cherrapunjee, ero eccitato. Da quando ero un bambino, avevo sentito il nome di Cherrapunjee come il posto più piovoso del mondo. Quando siamo arrivati, ho visto che i cartelli dicevano "Sohra" e mio amico ha spiegato che era il nuovo nome di Cherrapunjee. Sono rimasto deluso quando ho visto che a parte alcune zone verdi, la maggior parte del territorio sembrava terra bruciata senza alberi. Mio amico ha detto che era perché ormai la pioggia si è spostata verso il distretto vicino dove ora piove molto di più, ma ho avuto la sensazione che quella desolazione era dovuta alla vasta distruzione delle foreste.
***