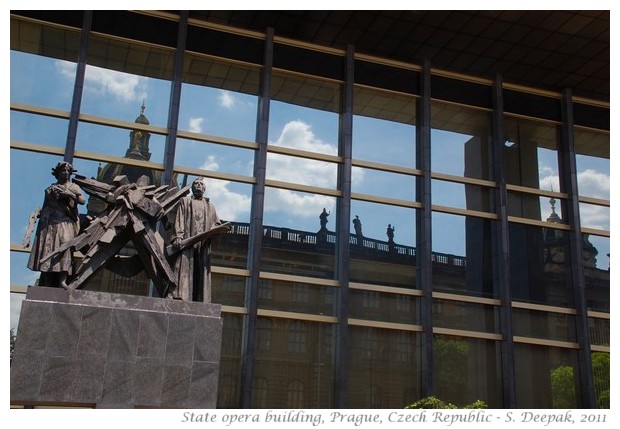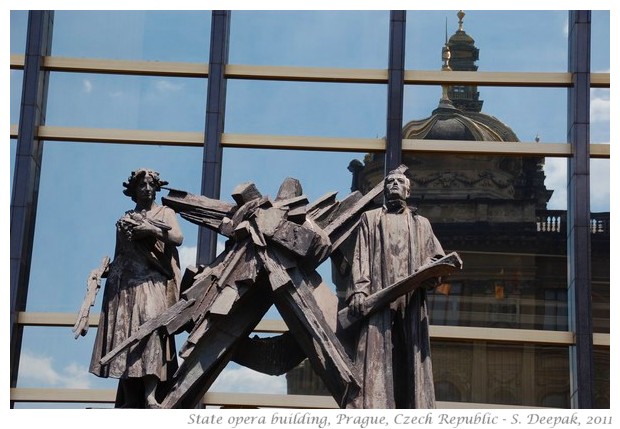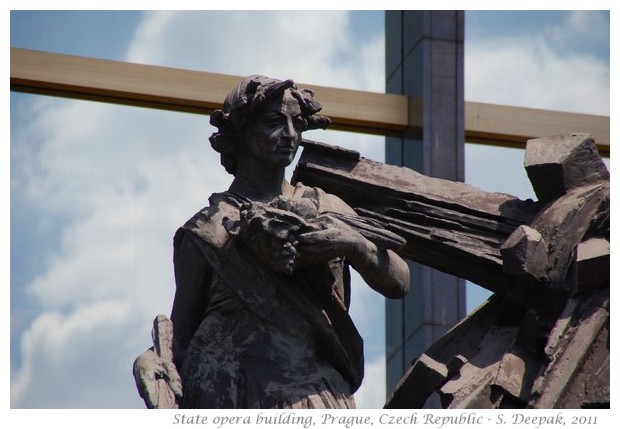 Prague, Czech Republic: The statues of State Opera House, near the Museum metro station, show a clear influence of the communist sculputre influence, especially in the figures of the woman and in the centre. However, city has changed a lot in the last twenty years after the fall of the Berlin Wall and the architectural signs of fifty years of communist rule are not so many.
प्राहा, चेक गणतंत्रः शहर में म्यूज़ियम के मेट्रो स्टेशन के पास, राष्ट्रीय ओपेरा भवन के बाहर बनी मूर्तियों में क्मयूनिस्ट शिल्पशैली का प्रभाव स्पष्ट दिखता है, विषेशकर स्त्री मूर्ति तथा बीच में बनी आकृति में. लेकिन बर्लिन की दीवार के गिरने के बाद, पिछले बीस सालों में बहुत बदलाव आया है और क्मयूनिस्ट शासन के पचास साल के कुछ गिने चुने अभिशेष ही वास्तुशिल्प में दिखते हैं.
Praga, Repubblica Ceca: Nella città vicino alla stazione metro di Museum, le statue di fronte al teatro nazionale dell'Opera mostra chiara influenza del stile comunista, sopratutto nella figura della donna e la parte centrale. Comunque, negli ultimi vent'anni dopo il crollo del muro di Berlino, Praga è cambiata molta e vi sono pochi segni dei 50 anni del regime nell'architettura.
***