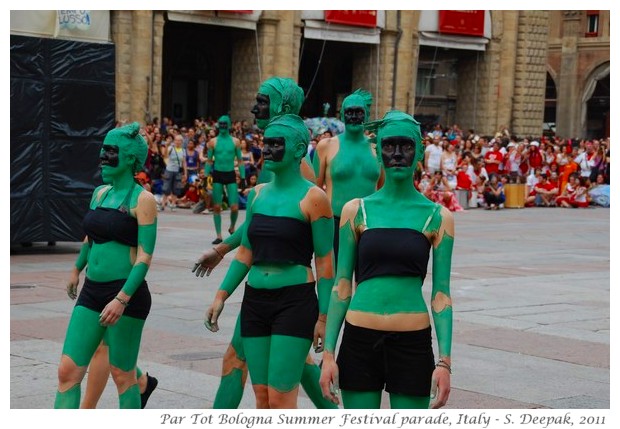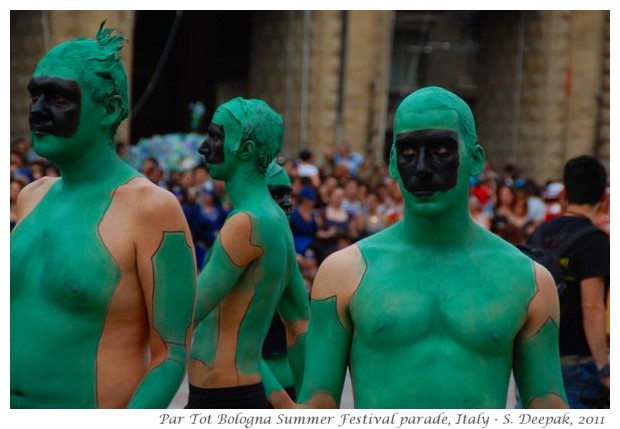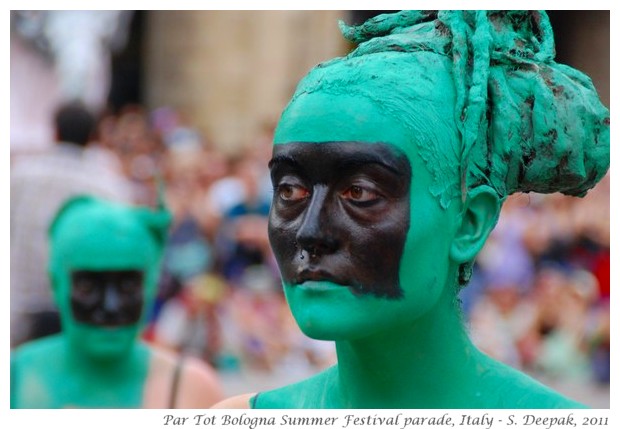 Bologna, Italy: Yesterday there was the Part Tot (For All) parade of the summer festival. In terms of novelty of dress, colours, make up, my first prize will go to the group of green people. In Science fiction, I had often read about "little green people from the Mars", when I saw them I felt that those green people had come out of science fiction books.
बोलोनिया, इटलीः कल शाम को ग्रीष्म ऋतु समारोह की "पर तोत" (सबके लिए) परेड थी. मेरे विचार में पौशाक, रंग, इत्यादि के नयेपन की दृष्टि से पहला पुरस्कार इन हरे लोगों के समूह को मिलना चाहिये. वैज्ञानिक उपन्यासों में "मँगल ग्रह में रहने वाले छोटे हरे लोगों" के बारे में पढ़ा था, जब इस समूह को देखा तो लगा वे वही लोग हैं.
Bologna, Italia: Ieri c'era la parata Par Tot, parte del festival, Bologna Estate. Per quanto riguarda la novità del costume, colori e trucco, il mio primo premio va al gruppo degli esseri verdi. Nei libri di fantascienza, parlano spesso di "i piccoli esseri che vivono sul Marte", quando ho visto loro ho pensato che erano usciti da un libro simile.
***