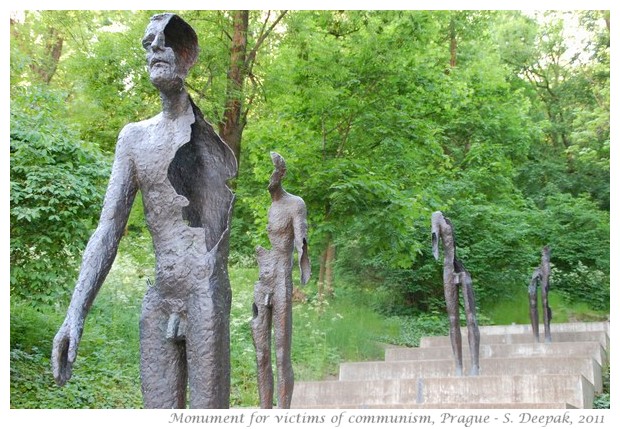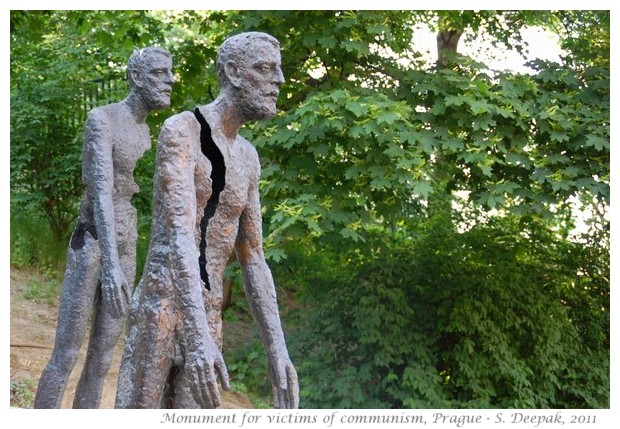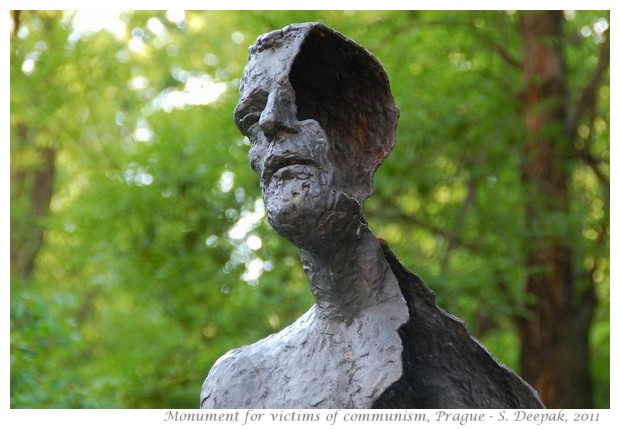 Prague, Czech Republic: I had known Prague through the writings of Hindi writer, Nirmal Verma. In 1968, when Soviet tanks had rolled into Prague to crush the reformist government of Dubcek, I had read about it in Hindi magazine, Dharamyug. Thus when I saw the monument to victims of totalitarian communism, by sculptor Olbram Zoubec, all those memories came back.
प्राहा, चेक गणतंत्रः प्राहा से मेरी जान पहचान हिन्दी लेखक निर्मल वर्मा के लेखन से हुई थी. 1968 में जब सोवियत टैंकों ने प्राहा में जा कर दुबचेक सरकार के लाये बदलाव को कुचला था, उसके बारे में धर्मयुग में पढ़ना याद है. तानाशाही कम्युनिस्ट शासन के शिकार लोगों की याद में शिल्पकार ओल्ब्राम ज़ूबेक की खँडित मानवों की मूर्तियों को देख कर वह बातें याद आ गयीं.
Praga, Repubblica Ceca: Avevo conosciuto Praga tramite gli scritti dello scrittore indiano Nirmal Verma. Nel 1968, quando i carri armati sovietici erano entrati a Praga per reprimere le aperture del governo Dubcek, ne avevo letto nella rivista indiana Dharamyug. Per cui, quando ho visto il monumento alle vittime del comunismo totalitario dello scultore Olbram Zoubec, tutte le vecchie memorie sono tornate.
***