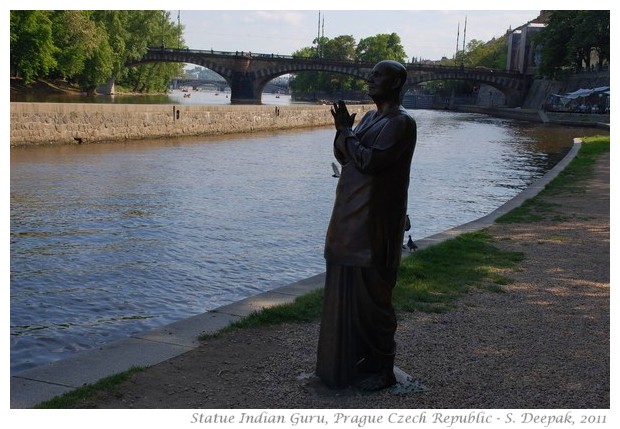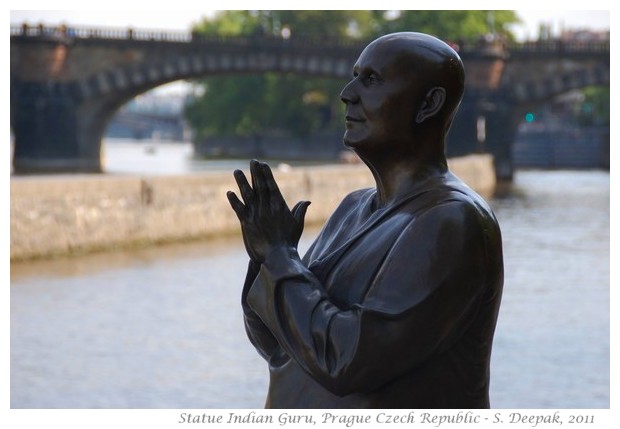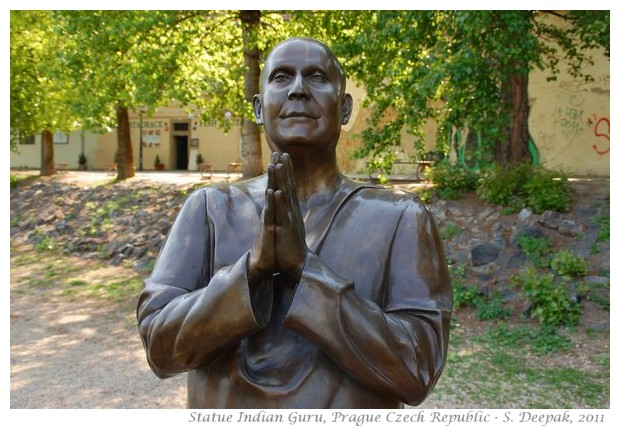 Prague, Czech Republic: On the banks of Vltava river, close to Kampa museum, a statue of an Indian man offering prayers facing the east, surprised me. Some of the sculptures of Kampa museum are placed outside their building, but this does not seem to be part of the museum. Who is he? Is he swami Prabhupada, the founder of "Hare Krishna"?
प्राहा, चेक गणतंत्रः व्लटावा नदी के किनारे, कम्पा संग्रहालय के पास, पूर्व दिशा में नमन करते एक भारतीय पुरुष की मूर्ति देख कर आश्चर्य हुआ. कम्पा संग्रहालय के कुछ शिल्प, संग्रहालय के भवन के बाहर आस पास दिखते हैं लेकिन यह मूर्ति संग्रहालय का हिस्सा नहीं लगती. कौन हैं यह पुरुष? शायद यह प्रभुपद स्वामी हैं जिन्होंने "हरे कृष्णा" संमप्रदाय को स्थापित किया था?
Praga, Repubblica Ceca: Alle rive del fiume Vltava, nei pressi del museo Kampa, mi ha soprpreso la statua di un uomo con i tratti e vestiti indiani che prega verso l'est. Nei dintorni vi sono anche le sculture del museo ma questa sembra non sembra parte della collezione del museo. Chi è lui? Forse è swami Parabhupada, il fondatore degli "Hare Krishna"?
***