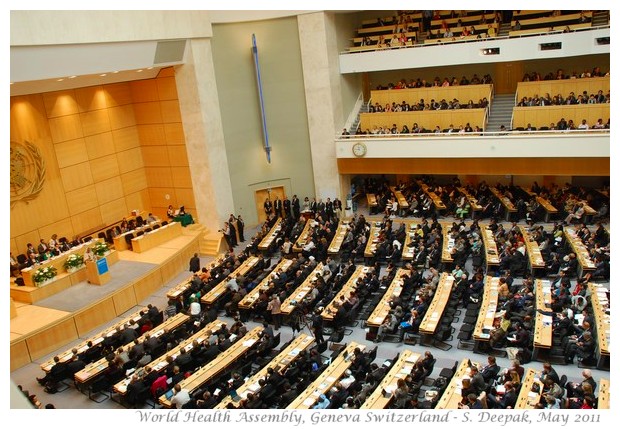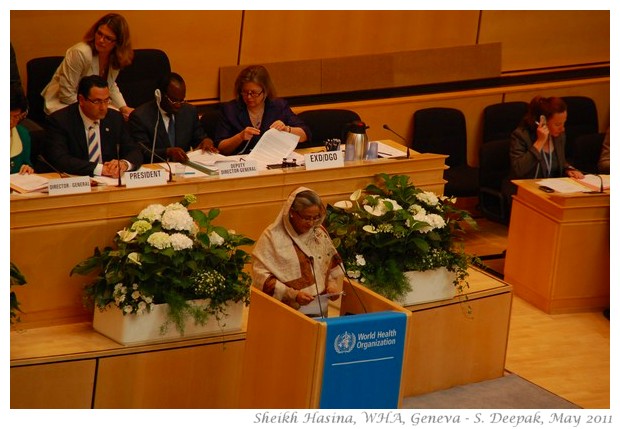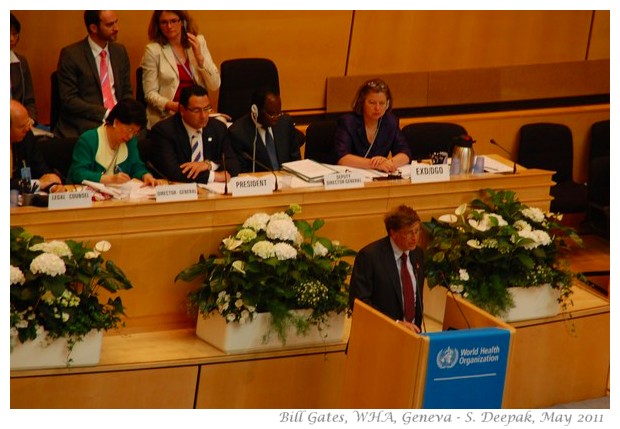 Geneva, Switzerland: This year, the chief guests at World Health Assembly were Sheikh Hasina from Bangladesh and Bill Gates from USA. Hasina spoke about the health situation of Bangladesh, while Gates spoke about vaccination for prevention of diseases. In his speech, Gates gave a long example of work done by Nitish Kumar in Bihar (India).
जेनेवा, स्विटज़रलैंडः विश्व स्वस्थ्य संघ की वार्षिक सभा में इस बार प्रमुख अतिथि थे बँगलादेश से शेख हसीना और अमरीका से बिल गेट्स. हसीना जी ने बँगलादेश की स्वस्थ्य स्थिति के बारे में बात की जबकि गेट्स बोले बच्चों को बीमारियों से बचाने के लिए टीका लगवाने के प्रयासों के बारे में. गेट्स ने अपने भाषण में बिहार और नितिश कुमार का लम्बा उदाहरण दिया.
Ginevra, Svizzera: Quest anno, vi erano due relatori speciali all'Assemblea Mondiale della Salute, Sheikh Hasina dal Bangladesh e Bill Gates dagli Stati Uniti. Hasina parlò della situazione sanitaria del Bangladesh mentre Gates parlò delle vaccinazioni per la prevenzione delle malattie tra i bambini. Nella sua relazione, Gates parlò anche del lavoro fatto dal governo di Nitish Kumar in Bihar (India).
***