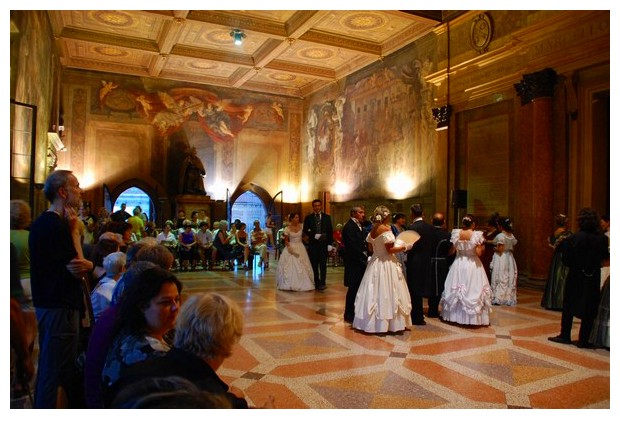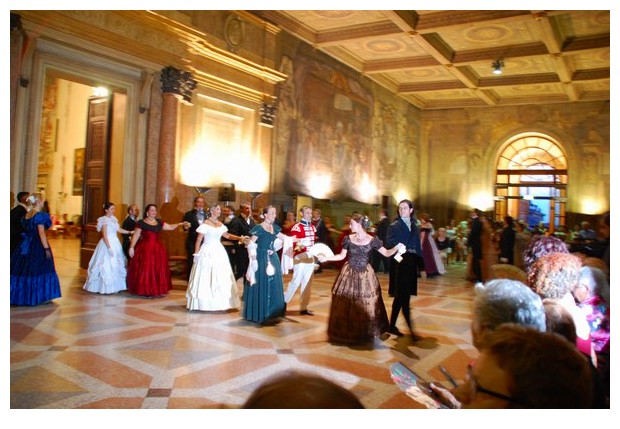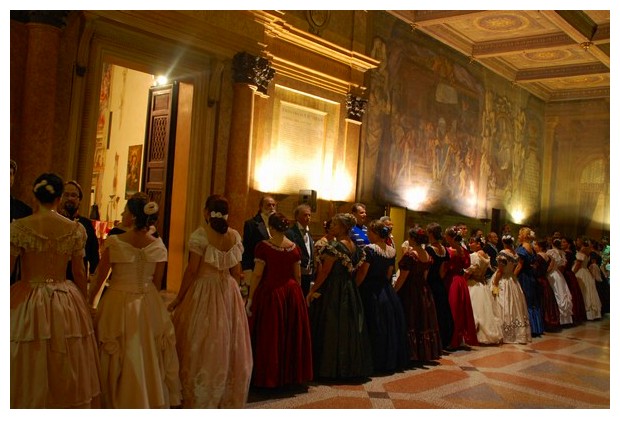 Bologna, Italy: Imposing hall from fourteenth century, beautiful clothes and music, and dances such as Spanish walts, polka and Mazurka. It felt as I was in middle of Franco Zeffirelli's Romeo & Juliet. The only problem was humid hot weather, without fans or air-conditioning. Women atleast had more open dresses, I could only imagine the situation of poor men in long coats, jackets and scarves.
बोलोनिया, इटलीः चौदहवीं शताब्दी का भव्य वास्तुशिल्प, सुंदर वस्त्र और संगीत, वाल्त्ज़, पोल्का, माज़ुर्का जैसे नृत्य. लग रहा था मानो सीधा फ़्राँको ज़ैफ़िरैल्ली की फ़िल्म "रोमियो जूलियट" में पहुँच गये हों. दिक्कत बस एक थी, उमस वाली गर्मी. पुराने भव्य भवन में न तो पँखे थे न वातानकूलन. लम्बे गाऊन पहने महिलाओं के वस्त्र तो फ़िर भी खुले थे और उनके पास हवा करने के लिए हाथों वाले पँखे भी थे, दया बेचारे पुरुषों पर आ रही थी जिन्होंने कोट, जेकेट, स्कार्फ आदि पहने थे.
Bologna, Italia: Bellissima sala del quattordicesimo secolo, belli vestiti e bella musica, danze come waltz spagnola, polka e mazurka. Sembrava di essere in mezzo al Romeo e Giulietta di Franco Zeffirelli. L'unico problema era il caldo umido. Almeno le donne avevano i vestiti più scollati e larghi, ma si poteva solo immaginare la situazione degli uomini con giacche, sotto giacche, e sciarpe.