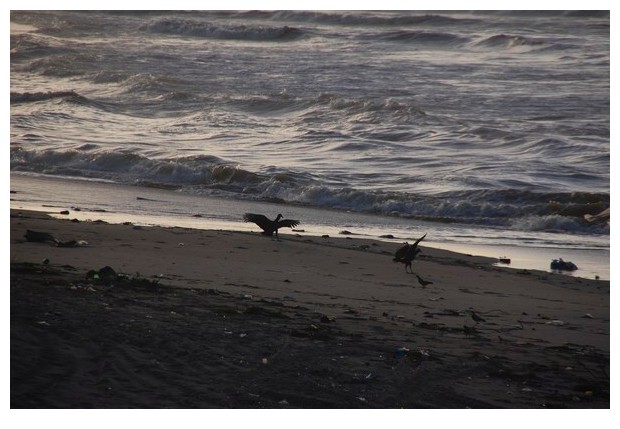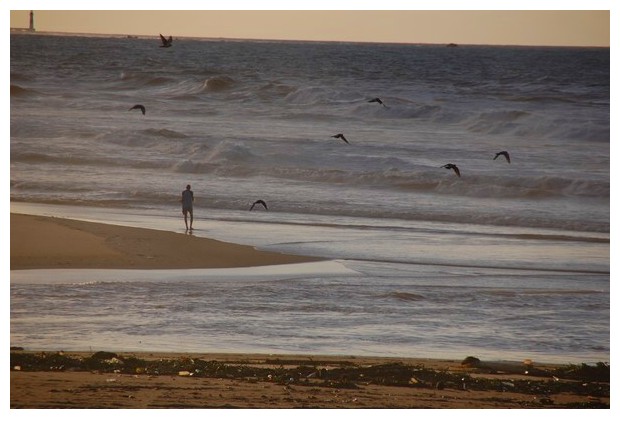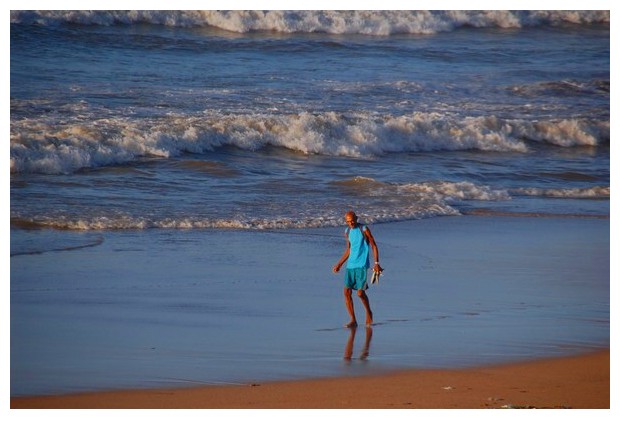 Salvador, Bahia, Brazil: Our hotel was close to the sea, but friends had made me afraid. "Early morning there are not many persons, so don't go out with purse, watch, camera, they will rob you." They advised me to keep some money and give it to the attackers without any hesitation. It seemed that a lot of people have such experiences. One friend's son was shot when some criminals had stopped and robbed his car. So I had wrapped my camera in a simple cotton bag and I had taken it out for some quick pictures only when I had seen some people jogging close by. The turbulent sea of Salvador in the morning.
साल्वादोर, बाहिया ब्राज़ीलः होटल समुद्र के पास था, लेकिन सब लोगों ने डरा दिया था कि सुबह सुबह सुनसान होता है, बाहर जाओ तो साथ में घड़ी, पर्स, कैमरा वगैरा मत ले कर जाओ, कोई भी चाकू दिखा कर लूट लेगा. सलाह देते थे कि कुछ पैसे पास रखो और अगर कोई रोक ले तुरंत पैसे दे देना और बहस न करना. मित्र लूट मार की कई कहानियाँ सुना चुके थे. एक मित्र के जवान पुत्र से उसकी कार लूटते हुए उसे गोली मार दी थी. इसलिए जब सुबह सैर के लिए निकला तो कैमरे को सादे थैले में लपेटा रखा था, जब आसपास कुछ लोग दिखे तभी कुछ तस्वीरें खींची. साल्वादोर के समुद्र पर सुबह की तस्वीरें.
Salvador, Bahia, Brasile: Nostro albergo era vicino al mare, ma avevo paura di andarci. Gli amici mi avevano consigliato di non uscire presto alla mattina con portafoglio, macchina fotografica, ecc., "Perché vi sono poche persone in giro e ti ruberanno". Sembra che molte persone hanno avuto simili esperienze. Criminali avevano anche sparato al figlio di un'amica, per rubare la sua macchina. Così ho nascosto la mia macchina fotografica dentro un sacchetto e l'ho tirata fuori per alcune foto veloci soltanto quando ero vicino ad alcune persone. Il mare di Salvador alla mattina.