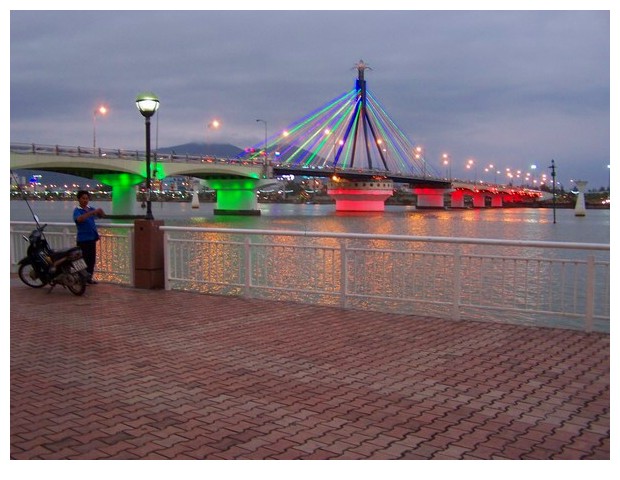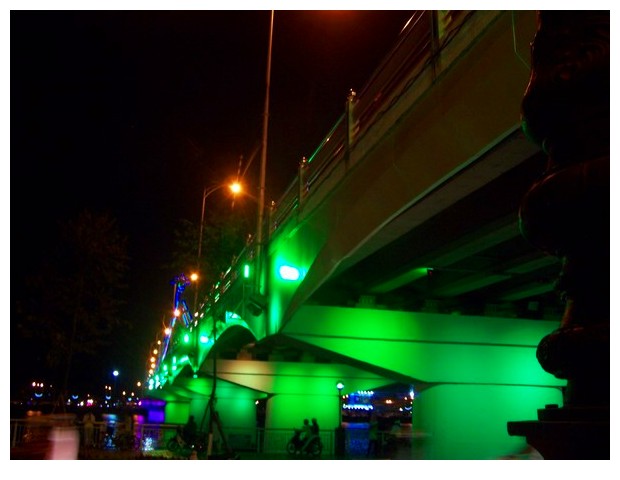 In Vietnam at night, often they have colourful lights on bridges. I was thinking that for a developing country, isn't it a waste of resources? My friends said that it makes people walking along the river, feel happier. It is also true that in Vietnam, where ever I went, there was never any problem with electricity. Recently I was in Karnataka in India, where it is difficult to get electricity for even 2-3 hours a day. Perhaps an Indian will be stimulated to invent a new and cheaper way to use solar energy or some other way to produce electricity? Todays images are from Han river in Da Nang.
वियतनाम में अक्सर शहरों में पुलों पर रात को रँगबिरँगी रोशनी करते हैं. मुझे लगता कि विकासशील देश में इस तरह का बिजली का प्रयोग क्या बेकार का खर्च नहीं? मेरे वियतनामी मित्र बोले कि इससे नदी किनारे सैर करने लोगों का मन प्रसन्न हो जाता है. यह बात अवश्य है कि वियतनाम में जहाँ भी गया, कहीं पर भी कभी बिजली नहीं गयी, जबकि पिछले दिनों कर्नाटक में था, जहाँ गाँवों में, दिन भर में दो तीन घँटे बिजली मिलना भी कठिन था, तो मन को दिलासा देता था, इस तरह कि कमियों से निकलने के लिए कोई भारतीय ही सूर्य के ताप से या किसी अन्य नये तरीके से बिजली बनाने का कुछ नया व सस्ता तरीका आविष्कार करेगा! आज की तस्वीरों में डानाँग शहर की हान नदी.
In Vietnam, alla sera, spesso hanno delle luci colorate sui ponti. Pensavo che era uno spreco di risorse per un paese in via di sviluppo, ma i miei amici hanno spiegato che le luci aiutano a sentirci più felici. E' anche vero che in tutte le zone del Vietnam che ho visitato, non vi è mai mancato la corrente elettrica. Dall'altra parte, recentemente ero nello stato di Karnataka in India, dove è difficile avere la corrente elettrica anche per 2-3 ore al giorno. Forse, questo stimolerà un indiano a inventare un nuovo e poco costoso modo di ricavare elettricità dalla luce solare o da qualche altra fonte? Le immagini di oggi sono del fiume Han nella città di Da Nang.