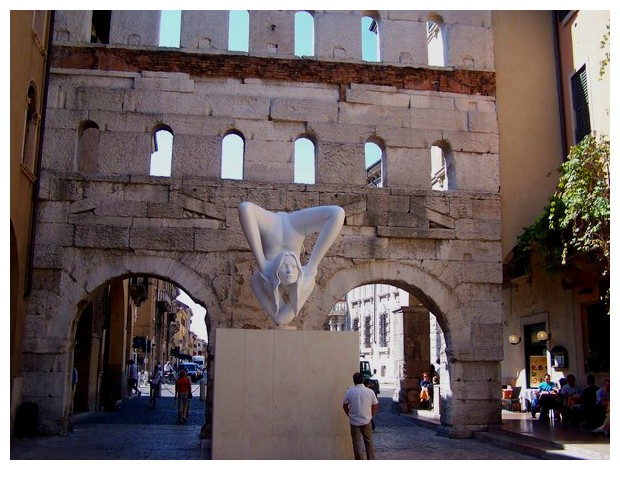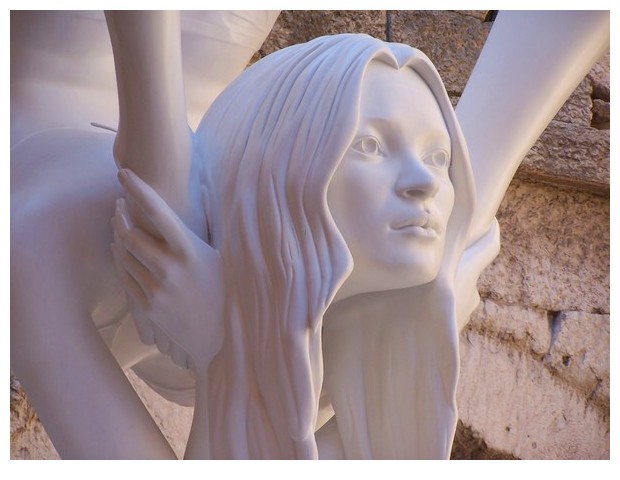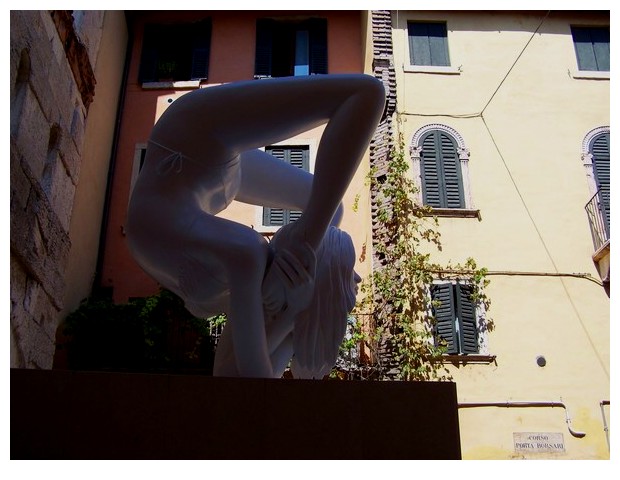 Verona, Italy: The title of this sculpture by British artist Marc Quinn is "Venus Myth". Perhaps he had found inspiration for it in a women doing Yoga exercises? Somehow it made me think about women today, tied in knots because society expects them to be working, beautiful, with well kept houses, good cooks and mothers, ... Maybe that is the sign of good art that it makes you reflect on different things!
वेरोना, इटलीः ब्रिटेन के शिल्पकार मार्क क्विन की इस कृति का नाम है "वीनस मिथक". शायद उन्हें इसकी प्रेरणा योग करती युवती से मिली, पर इसे देख कर मुझे इसमें आज की नारी दिखती है, गाँठों में बंधी, जिससे अपेक्षा की जाती है कि कमाये, सुंदर दिखे, घर साफ़ रखे, खाना अच्छा बनाये, अच्छी माँ बने. शायद यही कला की सफलता है कि देखने वालों के मन में विभिन्न प्रश्न उठाये. आप को इस वीनस में क्या दिखता है?
Verona, Italia: Il titolo di questa scultura del artista inglese Marc Quinn è "Mito di Venere". Forse aveva trovato ispirazione per questa creazione in una ragazza che esercitava Yoga? Mi ha fatto pensare alla situazione delle donne, dalle quale si aspetta che abbiano un lavoro, che siano belle, che tegono la casa in ordine, che siano buone cuoche e madri, ... Forse è il segno di buona arte che ti fa pensare a cose diverse!