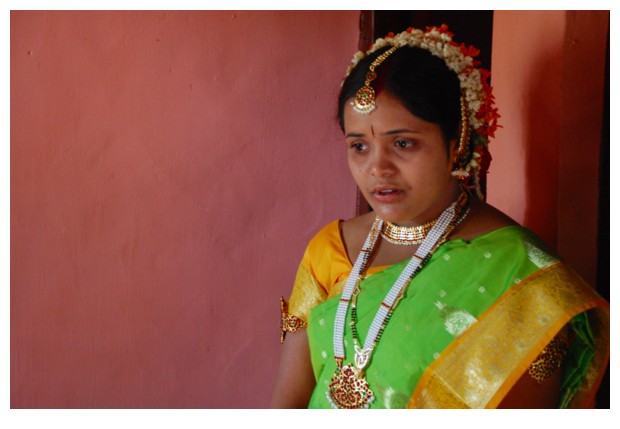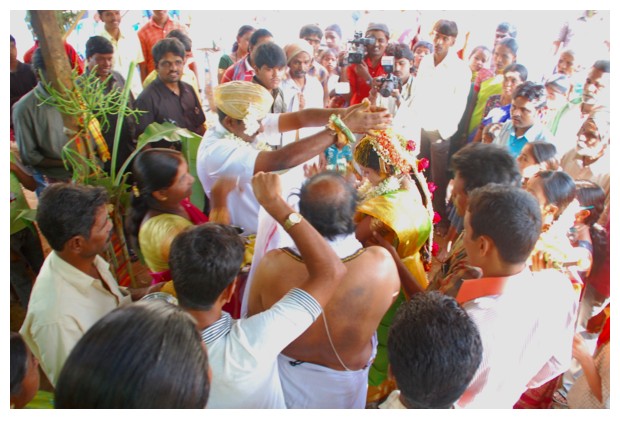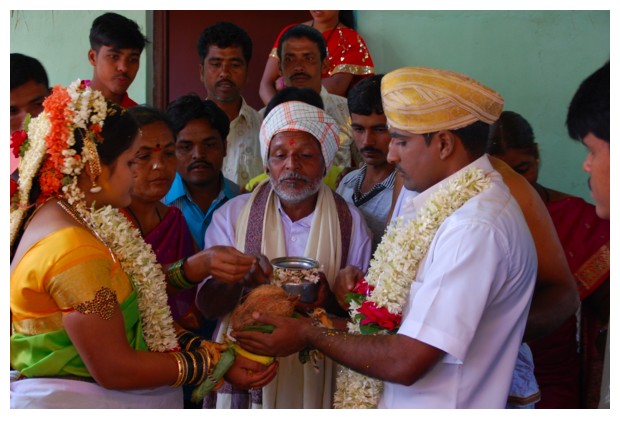 Karnataka, India: In a village near Nagmangala, I had an opportunity to participate in the marriage of Govind rani, who works in the village disability programme. Marriage was in the morning and through out, bride and bridegroom were standing. Also the different rituals were a little different from other marriages I had seen in north India.
कर्नाटक, भारतः नागमंगला के पास गाँव में विकलांग कार्यक्रम में काम करने वाली गोविंद रानी के विवाह में भाग लेने का मौका मिला, जिसमें अन्य भारतीय विवाहों से मिलती जुलती बातें भी थीं लेकिन कई भिन्नताएँ भी थीं. विवाह सुबह हुआ और सारा विवाह खड़े खड़े हुआ. जब वर महोदय पर्दे के सामने खड़े थे तो वधु ने उनके आसपास घूम कर फ़ेरे लिए, फ़िर वरमाला में पर्दे के ऊपर से वर वधु ने कई बार अपनी वरमालाओं की अदला बदली की. फ़िर पर्दे को वधु की साड़ी पर बाँधा गया, और दोनो ने एक दूसरे पर फ़ूल, पत्ते, दाल, चावाल बरसाये. फ़िर सब महमानों ने वर वधु के हाथों पर नारियल रखा, दूध डाला.
Karnataka, India: In un villaggio vicino a Nagamangala, ho partecipato al matrimonio di Govind Rani, una operatrice del programma per le persone disabili nel villaggio. Il matrimonio era di mattina e per tutta la durata del matrimonio, la sposa e lo sposo sono rimasti in piedi. Anche i vari riti matrimoniali erano diversi da come li conoscevo nel nord dell'India.