Last night at the summer festival there was a performance called "Rings of fire", I think that it made for a good photo-opportunity. You can judge for yourselves from the pictures below.
In the summer evenings, drinking cold beer and lazying around on the grass, listening to some music or watching some dances, is a good way to pass time and relax. So every morning I look at the different events of the summer festival planned for the day and decide where we can go in the evening. Tonight, we plan to go to an Indian-western fusion dance show.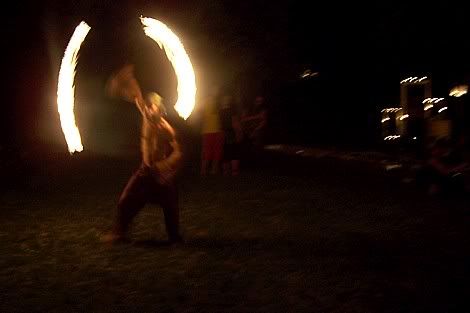 कल रात को ग्रीष्म ऋतु फैस्टिवल में एक अग्निचक्र भी था, जिसकी तस्वीरें आज प्रस्तुत हैं. आज रात को भारतीय और पश्चिमी नृत्यशैलियों को मिला कर बना फ्यूज़न नृत्य का प्रोग्राम है. ठँडी बियर के साथ, बाग में घास पर बैठ कर गर्म रातों में नृत्य संगीत के कार्यक्रमों में, अगर नृत्य या संगीत बहुत बढ़िया न भी हों तो मज़ा आ ही जाता है. उस पर से सब कुछ मुफ्त हो तो और भी अच्छा!