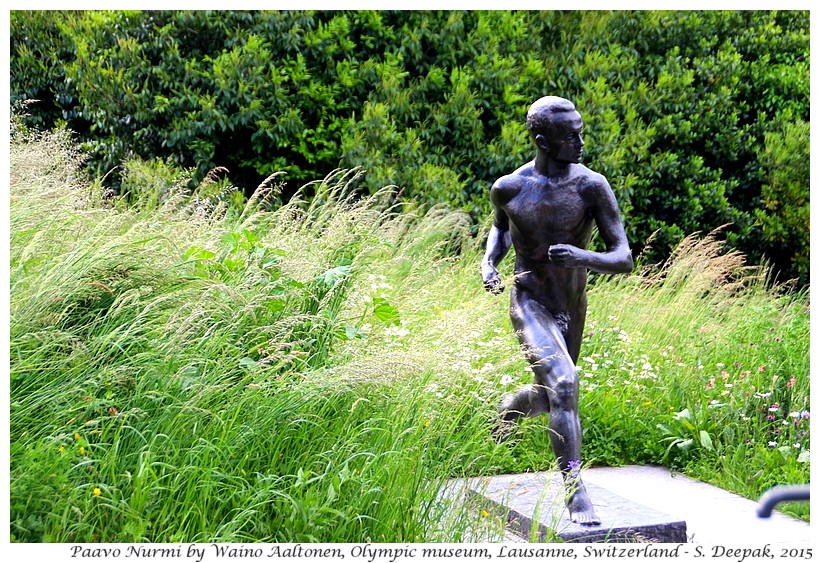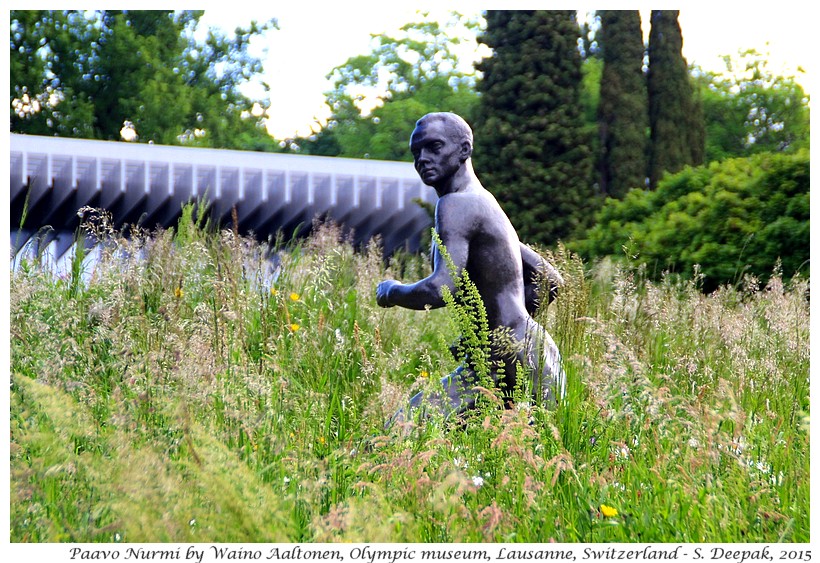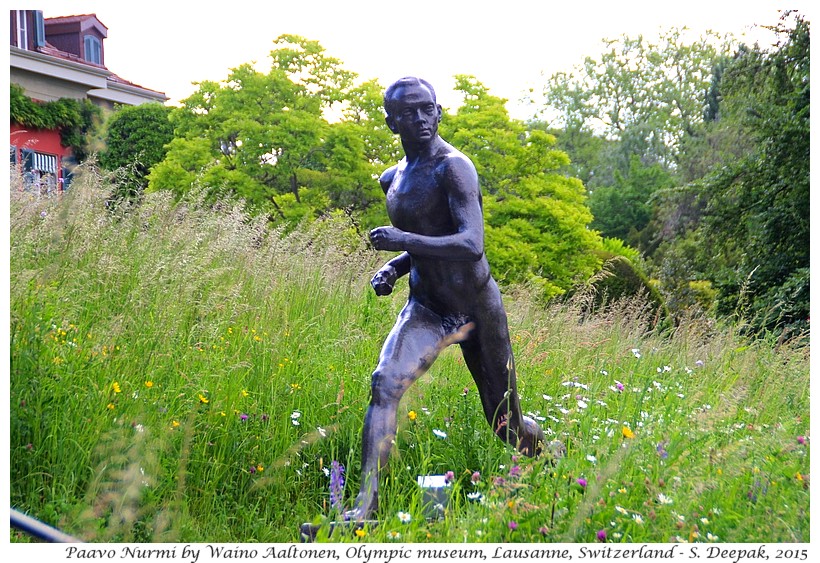 Lausanne, Switzerland: Paavo Nurmi, a runner from Finland became a legend in international running competitions in the beginning of twentieth century and was called the "Flying Finn". He made 22 world records and in Olympic games he won 9 gold and 3 silver medals. In races of 800 metres and above, he consecutively won 121 times. Today's images have the statue of Paavo Nurmi from Olympic museum by Finnish artist Waino Aaltonen.
लोज़ान्न, स्विटज़रलैंडः फिन्नलैंड के दौड़ने वाले एथलीट पावो नुर्मी ने बीसवीं शताब्दी के प्रारम्भ में अंतर्राष्ट्रीय दौड़ों में जीत कर "उड़नेवाले फिन्न" का खिताब पाया. उन्होंने 22 विश्व रिकार्ड बनाये और ओलिम्पिक प्रतियोगिताओं में 9 स्वर्ण पदक तथा 3 चाँदी के पदक जीते. 800 मीटर से लम्बी दूरी वाली दौड़ों में उन्होंने लगातार 121 प्रतियोगिताएँ जीतीं. आज की तस्वीरों में अंतर्राष्ट्रीय ओलिम्पिक संग्रहालय से फिनलैंड के कलाकार वाइनो आल्टोनेन की कलाकृति में "पावो नुर्मी".
Losanna, Svizzera: Paavo Nurmi, un corridore finlandese era diventato una legenda al inizio del ventesimo secolo per aver vinto numerose gare di corsa internazionali e veniva chiamato il "finlandese volante". Aveva stabilito 22 record mondiali e vinto 9 medaglie d'oro e 3 d'argento olimpiche. Nelle corse superiori a 800 metri aveva vinto 121 gare consecutive. Nelle immagini di oggi, la statua di Paavo Nurmi presso il museo olimpico, opera dell'artista finlandese Waino Aaltonen.
***