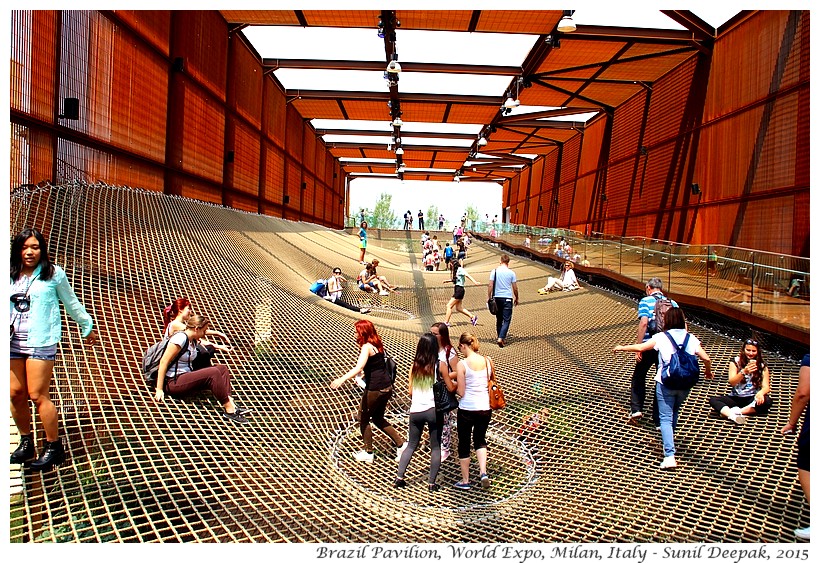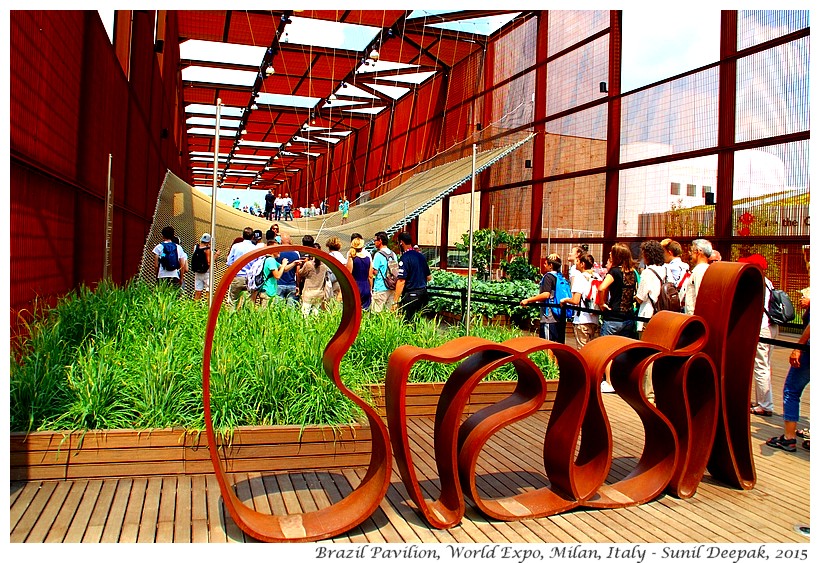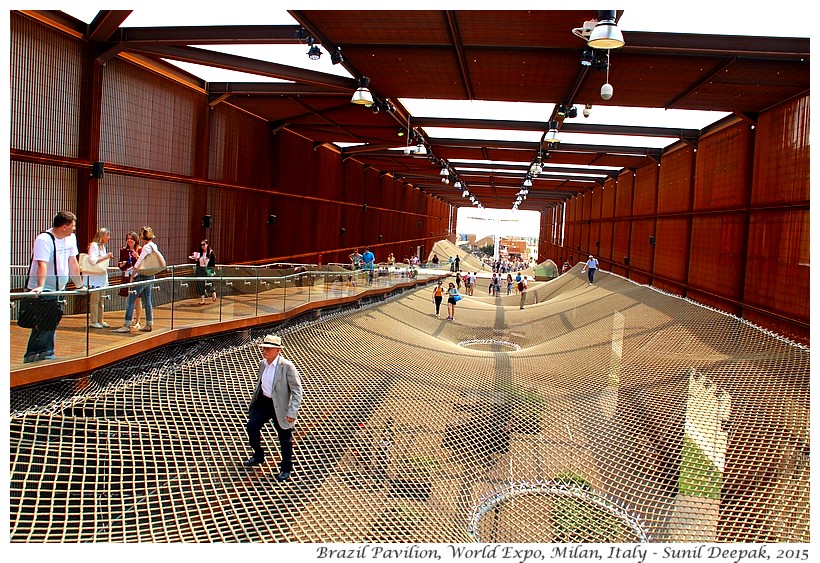 Milan, Italy: I loved the Brazilian pavilion at the World Expo 2015. It made me think of the opposite concept of "Hanging gardens" by making people hang on a rope-net over a tropical garden. See-through walls, pieces of open sky above you, a Brazilian forest below, the sounds of tropical birds chirping all around you, while you try to maintain your balance on that rope-net! If you were feeling sleepy, it wakes you up. Through this pavilion, on one hand Brazil reminds you about its rich nature, on the other hand, it shows-off their modern designs and advanced technology.
मिलान, इटलीः विश्व एक्स्पो 2015 की प्रदर्शनी में ब्राज़ील की पेवेलियन मुझे बहुत अच्छी लगी. इसमें "हैन्गिँग गार्डन" का अर्थ समझ में आया जब पाया कि बाग तो नीचे स्थिर था, बाग में घूमने वाले ऊपर रस्सियों के जाल पर लटक रहे थे. पारदर्शी सी दीवारें, ऊपर खुले आसमान के टुकड़े, नीचे ब्राज़ीली जँगल, हवा में जँगली पक्षियों की चहचहाहट और रस्सियों पर संतुलन बना कर चलने में केन्द्रित आप! अगर नींद आ रही हो तो तुरंत खुल जायेगी. इस तरह से एक ओर ब्राज़ील अपनी प्राकृतिक सम्पदा की ओर ध्यान खींचता है, दूसरी ओर अपनी आधुनिक डिज़ाईन तथा तकनीकी को प्रदर्शित करता है.
Milano, Italia: Mi è piaciuto molto il padiglione brasiliano all'Expo 2015. Mi ha fatto pensare al concetto contrario di "Giardini Pensili" quando mi sono trovato su una rete appesa sopra una foresta tropicale. Le pareti quasi trasparenti, sopra i pezzi del cielo aperto, sotto la foresta brasiliana, intorno i suoni degli uccellini tropicali in aria mentre sei tutto concentrato sul non perdere l'equilibrio sulla rete! Se avevi sonno, ti sveglierai subito. Così da una parte il Brasile ti ricorda della sua ricchezza naturale e dall'altra sottolinea le sue capacità di disegno moderno e la tecnologia avanzata.
***