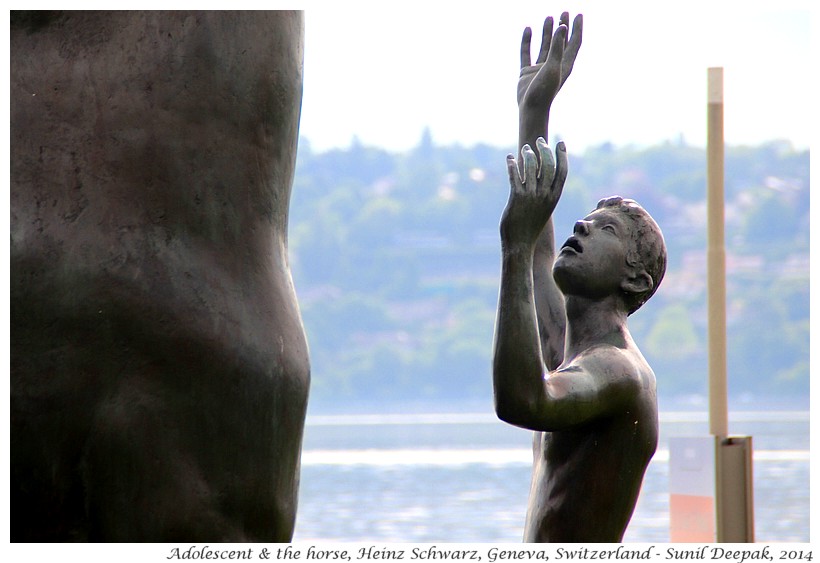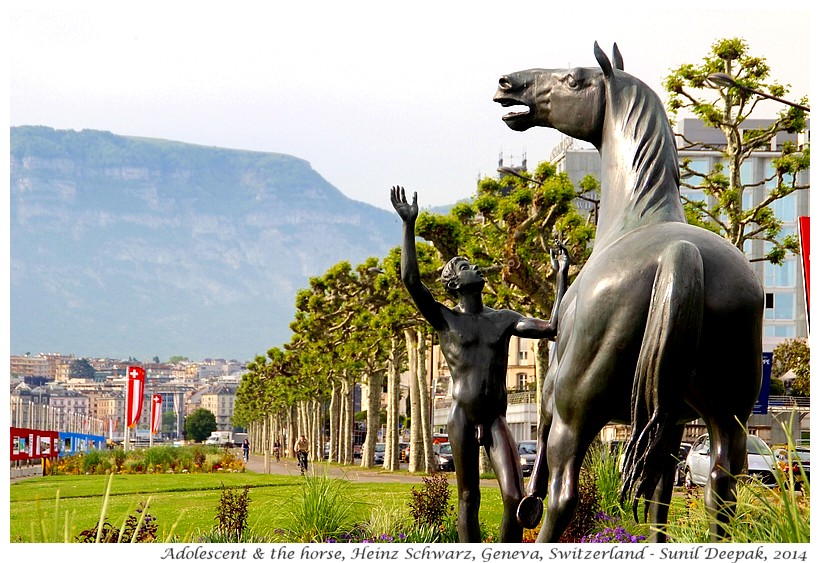 Geneva, Switzerland: Memory often does that, substitutes sadness with happiness in the memories. The days when I was in Geneva, were days of loneliness and sadness. But now when I think of those days, I do not remember the sad moments but rather the joy of walking along the lake. In that joy, admiring the art displayed all around in that area was also there. Like this sculpture of the adolescent boy and his horse that I used to love. Now whenever I go back to Geneva, I always wish to spend at least some time near the lake.
जेनेवा, स्विटज़रलैंडः यादाश्त अक्सर ऐसा करती है, यादों में से दुख की जगह खुशी को रख देतीं हैं. जिन दिनों जेनेवा में रहता था, वह अकेलेपन व उदासी का समय था. लेकिन अब सोचूँ तो उदास क्षण नहीं, झील के किनारे घूमने का आनन्द याद आता है. झील के पास घूमने की यादों में, वहाँ आसपास की कला को देखने का आनन्द भी था. जैसे एक किशोर युवक और उसके घोड़े की यह मूर्ति जो मुझे बहुत अच्छी लगती थी. अब जब भी जेनेवा लौटने का मौका मिलता है, हर बार इच्छा होती है कि झील के पास कुछ समय बिता सकूँ!
Ginevra, Svizzera: Memoria lo fa spesso, sostituisce la tristezza con la gioia nei ricordi. I giorni quando vivevo a Ginevra, erano giorni di solitudine e melanconia. Ma ora quando penso a quei giorni, non ricordo la tristezza, ricordo la gioia di camminare lungo il lago. In quella gioia c'era anche la gioia di ammirare l'arte che è esposta in quell'area. Come questa scultura dell'adolescente con il suo cavallo che mi piaceva molto. Adesso ogni volto che torno a Ginevra, voglio sempre poter passare almeno un po' di tempo vicino al lago.
***