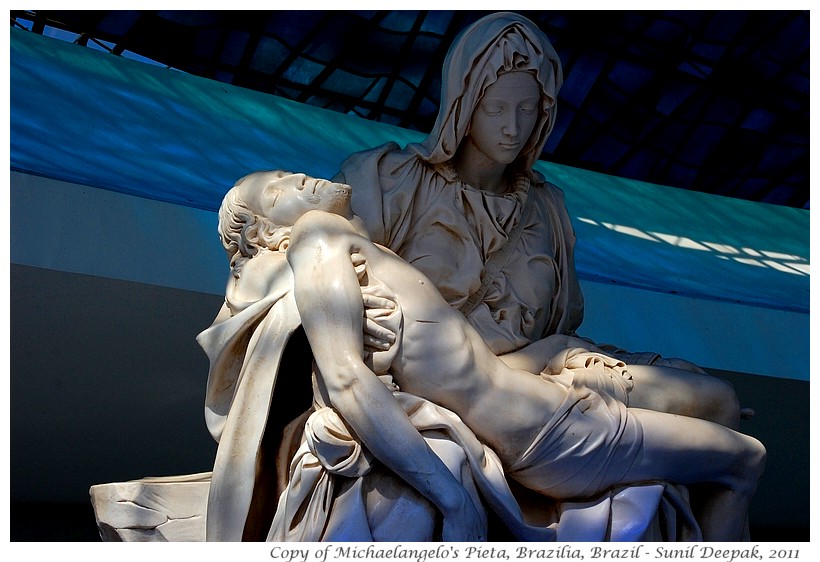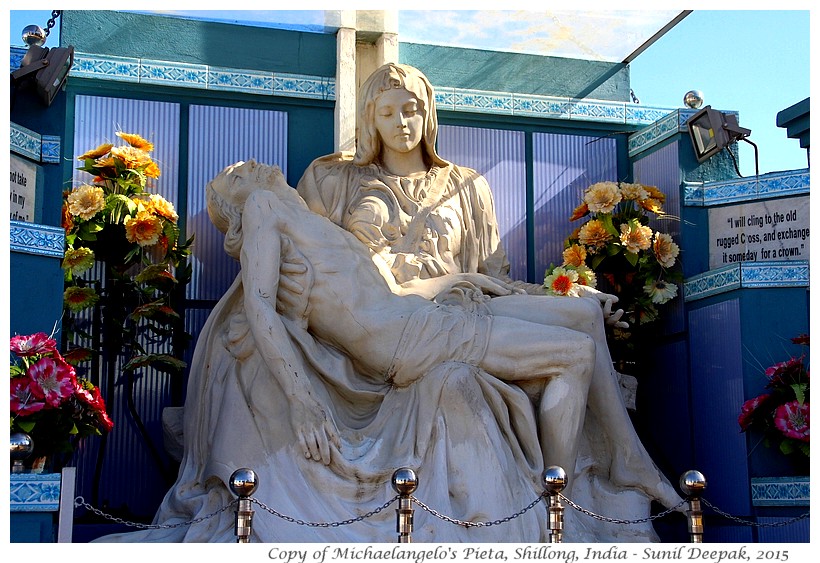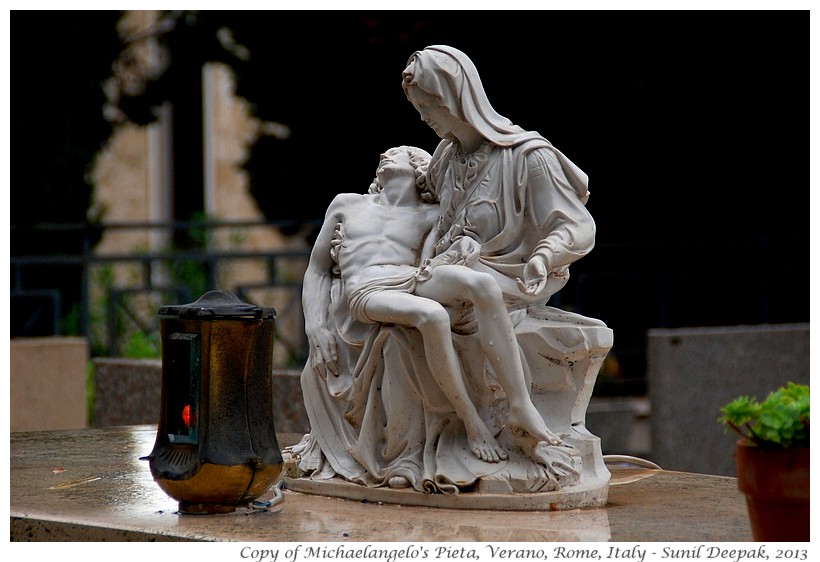 In the sculpture "Pieta" by famous Italian artist Michelangelo, there is a sad Miriam with the body of her son Jesus in her arms. The original of this sculpture is in St. Peter's in Rome, where it is not easy to photograph as it is behind a glass. Today's images have 3 copies of "Pieta" - first is from Brazilian capital Brazilia, second is from Shillong in Meghalaya (India) and the third is from Verano cemetery in Rome (Italy).
सुप्रसिद्ध इतालवी शिल्पकार व चित्रकार माइकल आँजेलो की कलाकृति "पिएता" में दर्द में डूबी मरियम की बाँहों में उनके बेटे जीसस का पार्थिव शरीर है. मूल शिल्प रोम के सैंट पीटर चर्च में है, लेकिन वह चूँकि शीशे के पीछे है, उसकी तस्वीरें अच्छी नहीं आती. आज की तस्वीरों में "पिएता" की तीन नकलें - पहली ब्राज़ील की राजधानी ब्राज़िलिया से, दूसरी भारत में मेघालय की राजधानी शिलाँग से और तीसरी, इटली में रोम में वेरानो कब्रिस्तान से.
Nella scultura "Pietà" del famoso artista italiano Michelangelo, c'è una triste Maria con il corpo del suo figlio Gesù nelle sue braccia. L'originale di questa statua è nella basilica di San Pietro a Roma, dove è difficile da fotografare perché è dietro un vetro. Le immagini di oggi hanno 3 copie di "Pietà" - la prima è dalla capitale brasiliana, Brasilia, la seconda è da Shillong in Meghalaya (India) e la terza è dal cimitero di Verano a Roma (Italia).
***