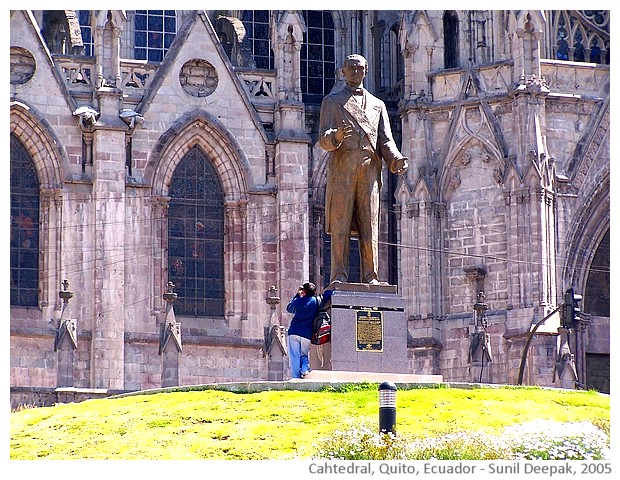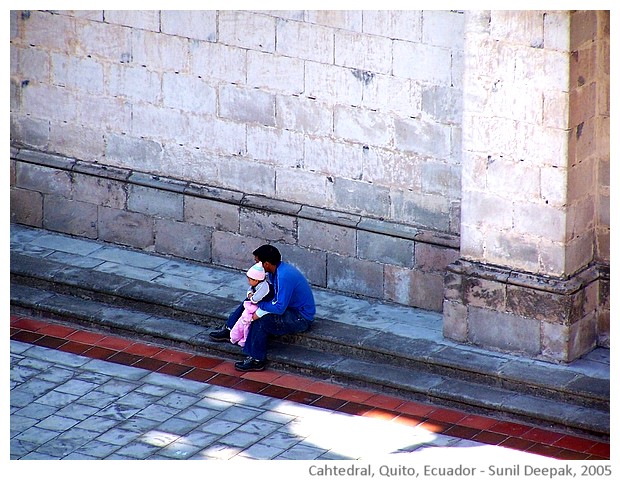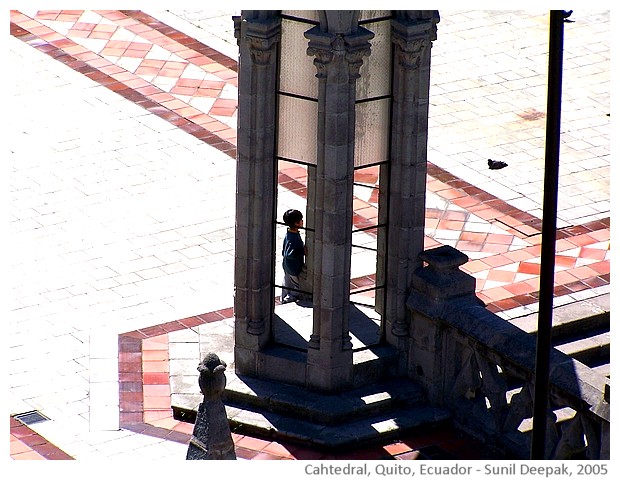 Quito, Ecuador: While travelling, I click so many pictures of people. If you are close to the person, they can at least indicate from their expressions if they want you to click them or not, but if you have a zoom lens, you do not even realize that someone has clicked your pictures. Today almost everyone is a photographer, if you don't have a camera, you click with your mobile phone. And roads, offices, banks have video cameras that record everyone walking from there.
कीटो, एक्वाडोरः देश विदेश घूमते समय कितनी तस्वीरें खींचता हूँ, कितने ही लोगों की. कभी कोई तस्वीर पास से खींचो तो जिसकी तस्वीर हो, उसे मालूम तो चलता है और अपने चेहरे के भाव से वह जता सकता है कि उसे आप का तस्वीर खीचना ठीक लगा या नहीं, लेकिन ज़ूम लैन्स हो तो दूर से किसकी कहाँ तस्वीर ले रहे हैं, यह किसे मालूम चलता है. पर आज कल तो हर कोई फोटोग्राफर है, कैमरा न हो तो लोग टेलीफ़ोन से ही खींच लेते है. और हर सड़क पर, दफ्तर में, बैंक में, वीडियो कैमरे लगे हैं जो आने जाने वालों की तस्वीरें लेते हैं.
Quito, Ecuador: Mentre viaggio scatto tante foto delle persone. Se sei vicino, almeno le persone possono indicare dalle loro espressioni se gradiscono che tu gli riprendi, ma se hai le lenti zoom, non te ne accorgi che qualcuno ha scattato la tua foto. Oggi quasi ogni persona fotografa, se non con una macchina fotografica, allora con il suo cellulare. E le strade, uffici, banche hanno le videocamere che riprendono tutti quelli che vi passano.
***