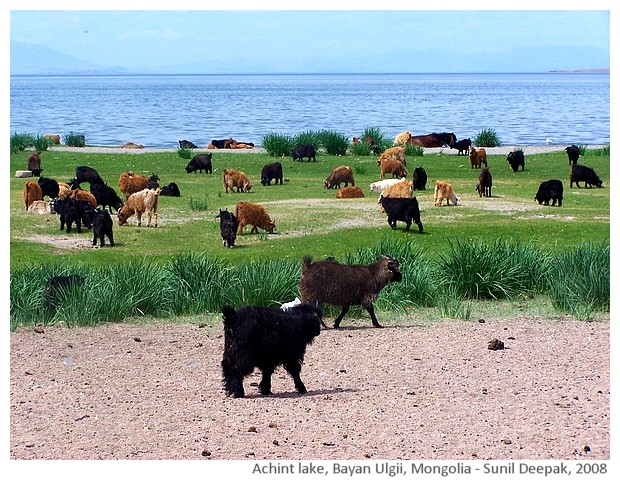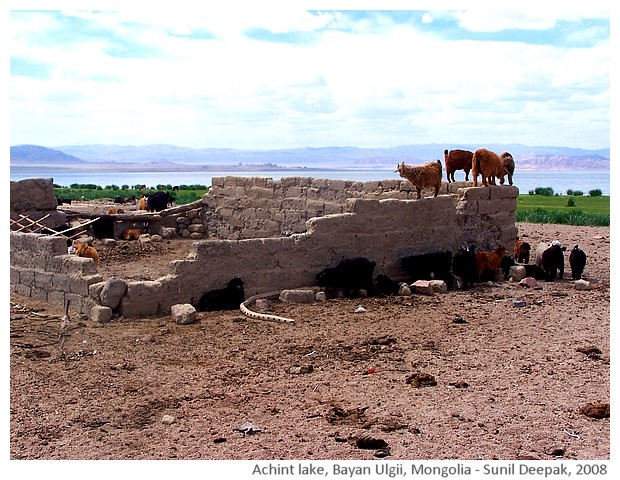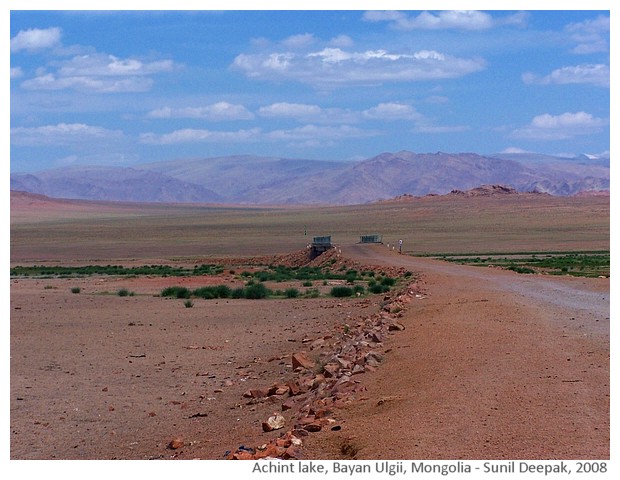 Achint lake, Mongolia: That day we had stopped near the lake for some time. On the lakeside, sheeps and goats were grazing. Nearby was a small bridge that marked the end of Ulgii province and start of Uvs. It was time to say goodbye to people of Ulgii, with whom we had spent some days. Every time I look at the images of that day, their beauty warms my heart.
अचिन्त झील, मँगोलियाः उस दिन झील के पास थोड़ी देर के लिए रुके थे. झील के किनारे, भेड़ बकरियाँ घास चर रही थीं. थोड़ी दूर पर छोटा सा पुल था, जहाँ से उल्गी राज्य समाप्त और उव्स राज्य शुरु होता था. उल्गी के लोग, जिनके साथ इतने दिन बिताये थे, उन्हें अलविदा कहने का समय आ गया था. जब भी उस दिन की तस्वीरें देखता हूँ तो उसकी सुन्दरता से दिल में गर्मी आ जाती है!
Lago Achint, Mongolia: Quel giorno eravamo fermati per un po' vicino al lago. Gli agnelli e le capre pascolavano lungo i bordi del lago. Vicino c'era un piccolo ponte che marcava la fine della provincia di Ulgii e l'inizio di Uvs. Era il momento di salutare le persone di Ulgii che ci avevano accompagnato per diversi giorni. Ogni volta che guardo le foto di quel giorno, la loro bellezza mi riscalda il cuore.
***