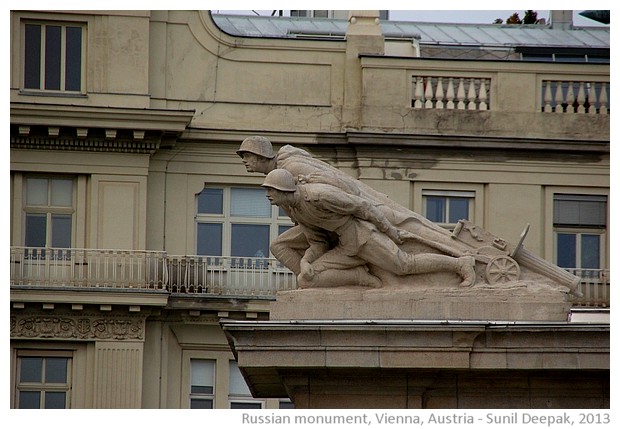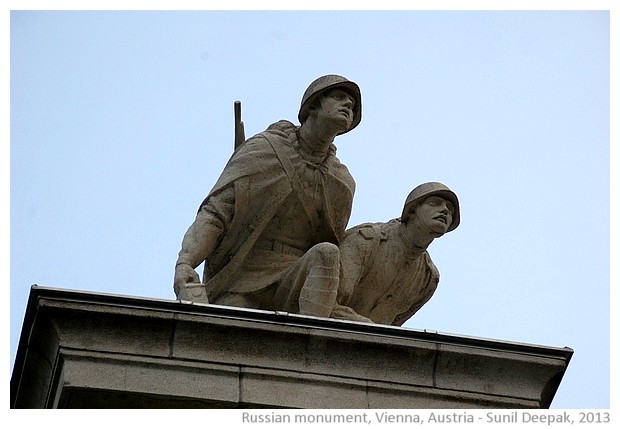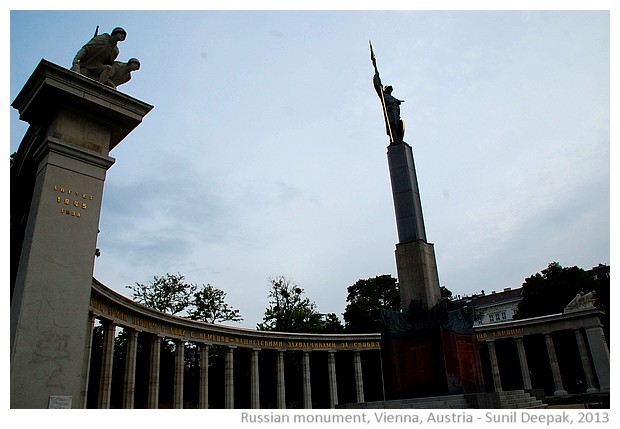 Vienna, Austria: "Socialist realism" art style was developed in Soviet Union that showed simple workers in hero-like and romantic poses while their muscular bodies and happy faces reflected the goodness of communism. The soldiers of the Russian monument of Vienna are also made in the socialist realism style. Apart from countries of ex-Soviet Union, similar statues can also be found in countries like China and Vietnam.
वियेना, ओस्ट्रियाः सोवियत संघ में "समाजवादी यथार्थ" की कला शैली का विकास हुआ जिसमें कामगारों को हीरो व रूमानी अन्दाज़ों में दिखाते थे, जहाँ उनके हष्ट पुष्ठ शरीर, और चौड़े हँसमुख चेहरों में कम्युनिस्म की अच्छाईयाँ दिखती थीं. वियेना के रूसी स्मारक के सिपाही भी इसी शैली में बने हैं. यह कला शैली भूतपूर्व सोवियत यूनियन के देशों के अतिरिक्त चीन, वियतनाम जैसे देशों में भी अक्सर दिखती है.
Vienna, Austria: Lo stile artistico "realismo socialista" fu sviluppato nell'Unione Sovietica e presentava i lavoratori semplici nelle pose eroiche e romantiche, mentre i loro corpi muscolosi e le espressioni felici dovevano mostrare la bontà del comunismo. I soldati del monumento russo di Vienna sono stati creati nello stesso stile. Oltre ai paesi dell'ex-unione Sovietica, questo stile d'arte si può trovare anche nei paesi come Cina e Vietnam.
***