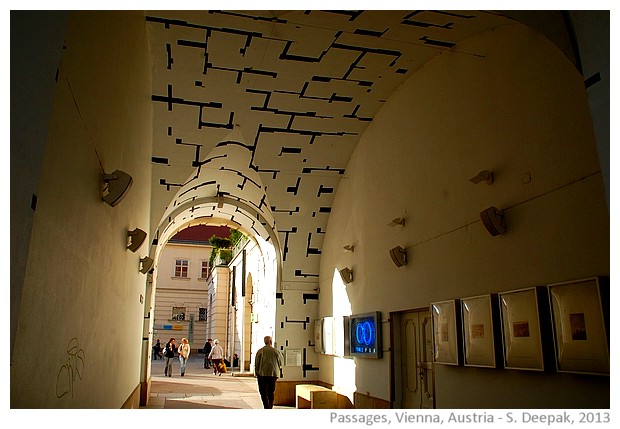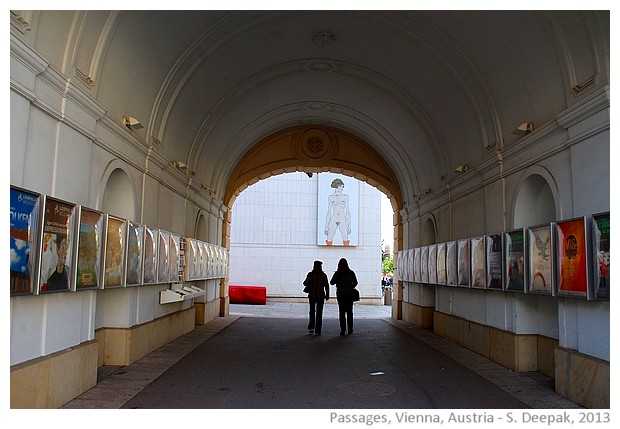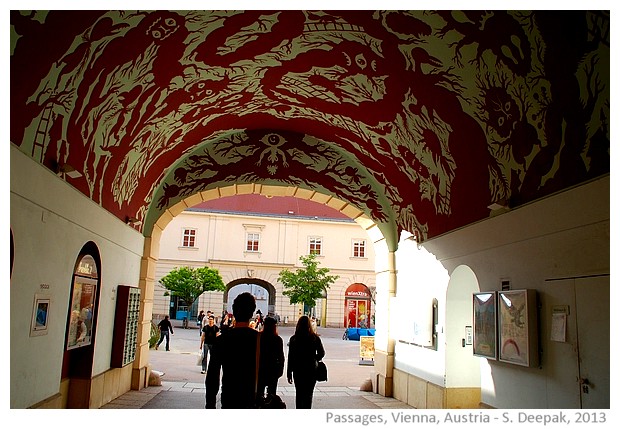 Vienna, Austria: Architecture of buildings also influences our unconscious minds. In this sense, what is the influence of passing through cave like covered passages? In the old part of Vienna, I saw a lot of such covered passages with paintings on their walls. Today's images have three passages from the museum district of Vienna.
वियेना, ओस्ट्रियाः जगहों के वास्तुशिल्प का मानव अवचेतन मन पर भी प्रभाव पड़ता है. इस दृष्टि से देखें तो गुफ़ाओं जैसे रास्तों से गुजरने का क्या प्रभाव पड़ता है? वियेना शहर के पुराने भाग में ऐसे गुफ़ाओं जैसे रास्ते बहुत से दिखे, जिनकी दीवारों पर अक्सर चित्रकारी बनी हुई थीं. आज की तस्वीरों में वियेना की म्युज़ियम डिस्ट्रिक्ट से तीन रास्ते.
Vienna, Austria: L'architettura degli edifici influisce sul nostro subconscio. In questo senso, quale è l'influenza dei passaggi coperti? Nella vecchia parte di Vienna, ho visto molti passaggi coperti con dei disegni sui muri. Le immagini di oggi hanno tre passaggi dalla zona dei musei di Vienna.
***