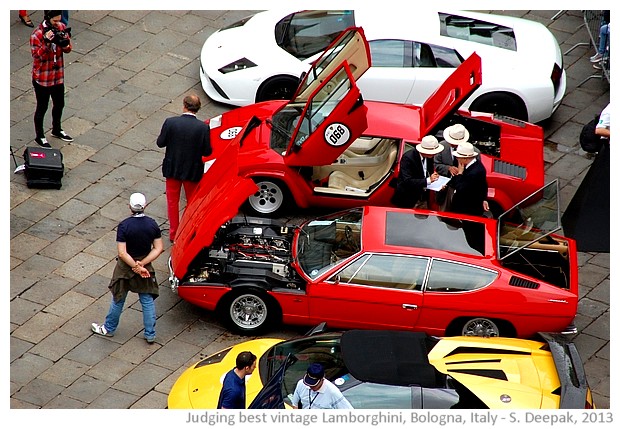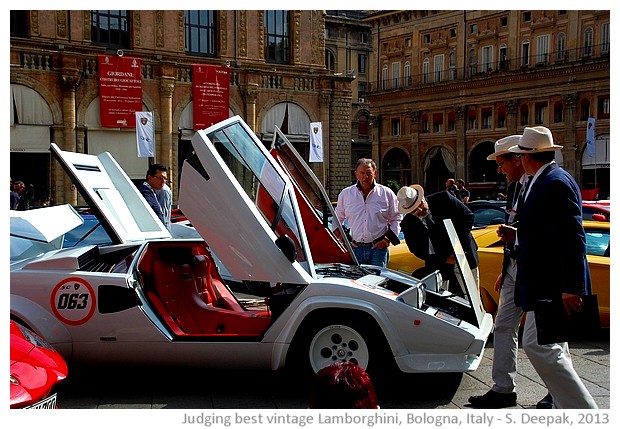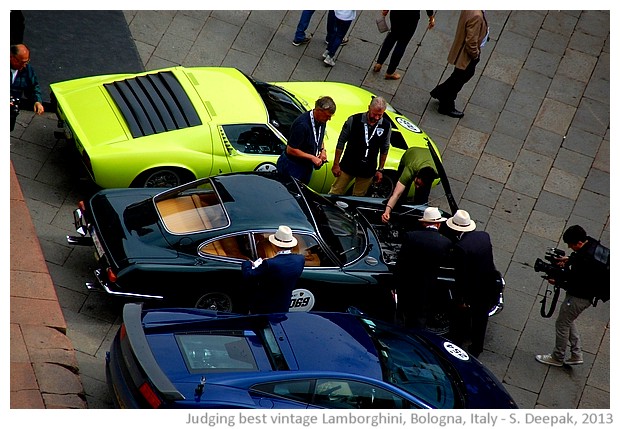 Bologna, Italy: Lamborghini cars are amongst the costliest cars in the world, each car costing between two hundred thousand to one million Euro. Their factory is close to Bologna. For their fiftieth anniversary, they had organized a rally of vintage Lamborghinis, for which cars came from different parts of the world. Today's images are from that rally, showing the judges wearing white hats, checking the cars to decide the best vintage Lamborghini.
बोलोनिया, इटलीः लम्बोरगीनी कारें दुनिया के सबसे मँहगी कारों में से हैं, एक कार की कीमत 2 से 10 लाख यूरो (1 यूरो = लगभग 60 भारतीय रुपये) तक हो सकती है. लम्बोरगीनी की फैक्टरी बोलोनिया के पास है. अपनी पचासवीं वर्षगाँठ पर लम्बोरगीनी वालों ने पुरानी लम्बोरगीनी कारों की रैली का आयोजन किया जिसमें देश विदेश से लोग अपनी कारों को ले कर आये. आज की तस्वीरों में इसी रैली की तस्वीरें हैं जिसमें सफेद हैट पहने जज कारों की जाँच कर रहे हैं, सबसे बढ़िया पुरानी लम्बोरगीनी कार को चुनने के लिए.
Bologna, Italia: Le Lamborghini sono tra le macchine più costose del mondo, una macchina può costare da due cento mila a un milione di Euro. La loro fabbrica è nei pressi di Bologna. Per il loro cinquantesimo anniversario, avevano organizzato una rally delle vecchie Lamborghini, per la quale macchine sono arrivate da diverse parti del mondo. Le immagini di oggi sono da quella rally e mostrano i giudici con i cappelli bianchi in testa, mentre controllano le macchine per decidere la migliore Lamborghini vecchia.
***