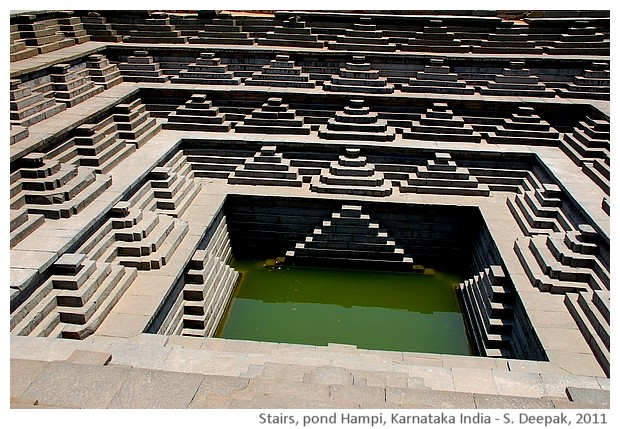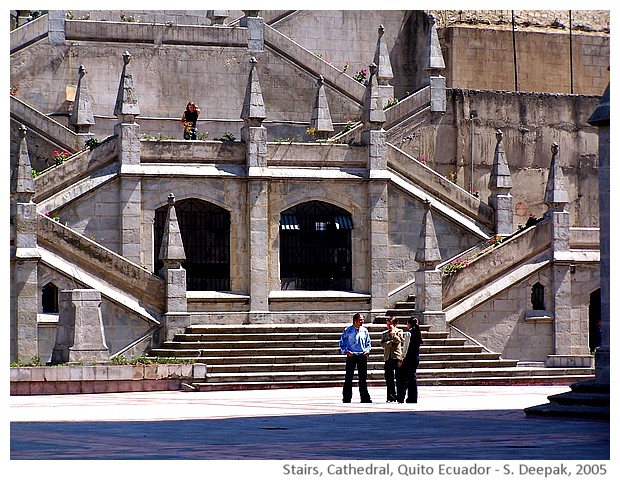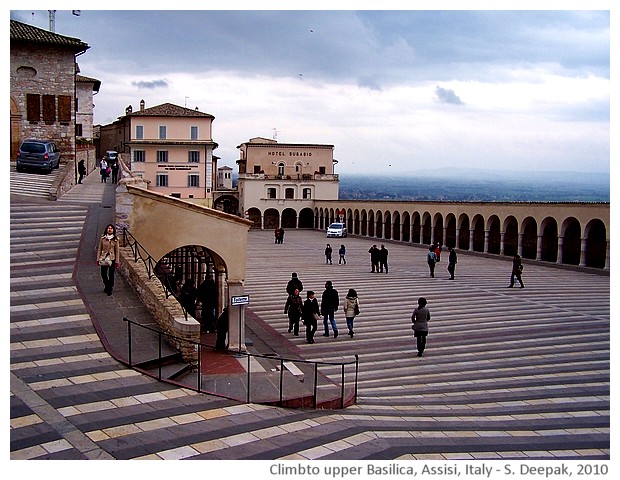 Making symmetrical designs of stairs is an old tradition in the architecture in different parts of the world. It is linked with development of geometry. The first texts of geometry are from Babylon of two thousand BC. In India, the oldest texts of geometry are in "Shatpath Brahman" as parts of Yajurveda from 9th century BC. Today's images are about symmetrical designs from three countries - the stairs of the pond from Hampi in India, the stairs of the cathedral of Quito in Ecuador and the path to the upper Basilica in Assisi, Italy.
वास्तुशिल्प से सीढ़ियों को सममित परिकल्पना देने की विभिन्न संस्कृतियों में प्राचीन परम्परा है, जिससे रेखागणित के विकास की कहानी जुड़ी है. रेखागणित की सबसे प्राचीन जानकारी ईसा से दो हज़ार वर्ष पहले के बेबीलोन से मिली है. भारत में रेखागणित के पहले उदाहरण ईसा से नौ सौ वर्ष पुराने यजुर्वेद से जुड़े "शतपथ ब्राहम्ण" में मिलते हैं. आज की तस्वीरों में सीढ़ियों की सममित परिकल्पना तीन विभिन्न देशों से - भारत में हम्पी की बावली, एक्वाडोर में कीटो का कैथेड्रल और इटली में असिज़ी का रास्ता.
Costruire scale in un disegno simmetrico è una vecchia tradizione dell'architettura in diverse parti del mondo. E' legato allo sviluppo della geometria. I primi testi sulla geometria sono del due mila AC dalla Babilonia. In India, i primi testi che parlano di geometria sono in "Shatpath Brahman" del Yajurveda e sono del nove cento AC. Le immagini di oggi riguardano la simmetria nel disegno e provengono da tre paesi - le scale del pozzo di Hampi in India, le scale della cattedrale di Quito in Ecuador e la salita per la basilica superiore a Assisi in Italia.
***