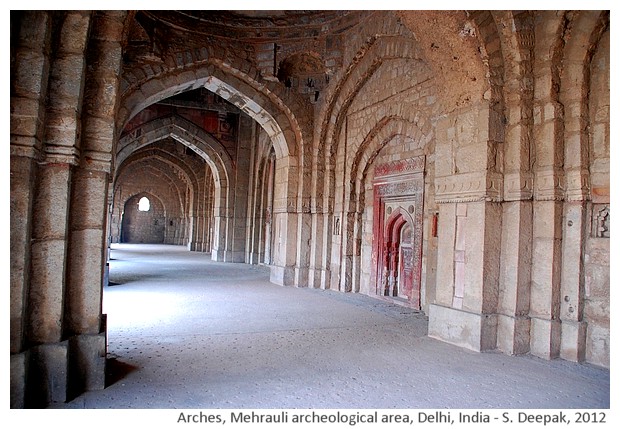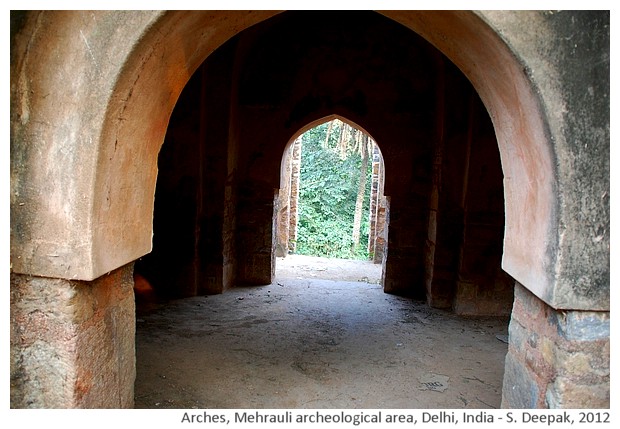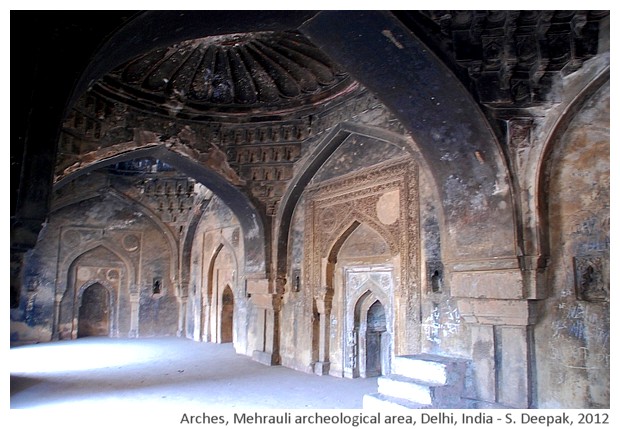 Delhi, India: Arches were an important part of Islamic architecture. The arches in today's images are from Mehrauli archeological park from an area behind Qutab Minar, which had hosted the Delhi of Slave dynasty in thirteenth century and had kings like Balban, Razia Sultan
and Quli Khan
(Thanks to
Neeraj
I discovered, I was wrong, Quli Khan was son of Akbar's wet nurse!) Often at the end of a row of arches you can see light and this always reminds me of the stories of "near death" experiences, where persons talk of passing through a dark tunnel and coming into light.
दिल्ली, भारतः मेहराबें इस्लामी वास्तुशिल्प का अभिन्न हिस्सा थीं. आज की तस्वीरों की यह मेहराबें कुतुब मीनार के पीछे महरौली पुरातत्व पार्क से हैं जहाँ तेरहवीं शताब्दी में ग़ुलाम वँश की दिल्ली बसी थी जिनमें बलबान, रज़िया सुल्तान
तथा कुली ख़ान
जैसे शासक हुए. अक्सर मेहराबों की कतार के अन्त में रोशनी दिखती है जिन्हें देख कर मुझे "मृत्यू से लौट कर आये" लोगों की सुनायी जीवन अन्त के अनुभव की कहानियाँ याद आती है, वह अँधेरी सुरंग से गुज़र कर रौशनी में जाने की बात करते हैं.
Delhi, India: Archi erano una parte importante dell'architettura islamica. Gli archi nelle immagini di oggi sono dalla zona archeologica di Mehrauli dietro il Qutab Minar, dove stava la Delhi della dinastia degli schiavi del tredicesimo secolo che ha avuto regnanti come Balban, Razia Sultan
e Quli Khan
. Spesso alla fine di una serie di archi si vede una luce e questo mi fa pensare ai racconti delle "esperienze di morte" che parlano di passare attraverso un tunnel buio per poi uscire alla luce.
***